On 24th February'2020, Ahsanullah University of Science and Technology (AUST) signed a memorandum of understanding (MoU) with German based organization ''Engelbert Strauss'' (ES) and Deutsche Gesellschaft für Internationale Zusammenarbeit (GIZ) to enhance cooperation among the institutions. The main objectives of the MoU is to start a joint project to set up a "Chair for Sustainability and Textile Innovation'' within the Department of Textile Engineering of AUST.
Professor Dr. Muhammad Fazli Ilahi, Vice-Chancellor of AUST , Mr. Steffen Strauss, owner of Engelbert Strauss, and Werner Lange from GIZ signed the MoU on behalf of their respective organisations at AUST campus.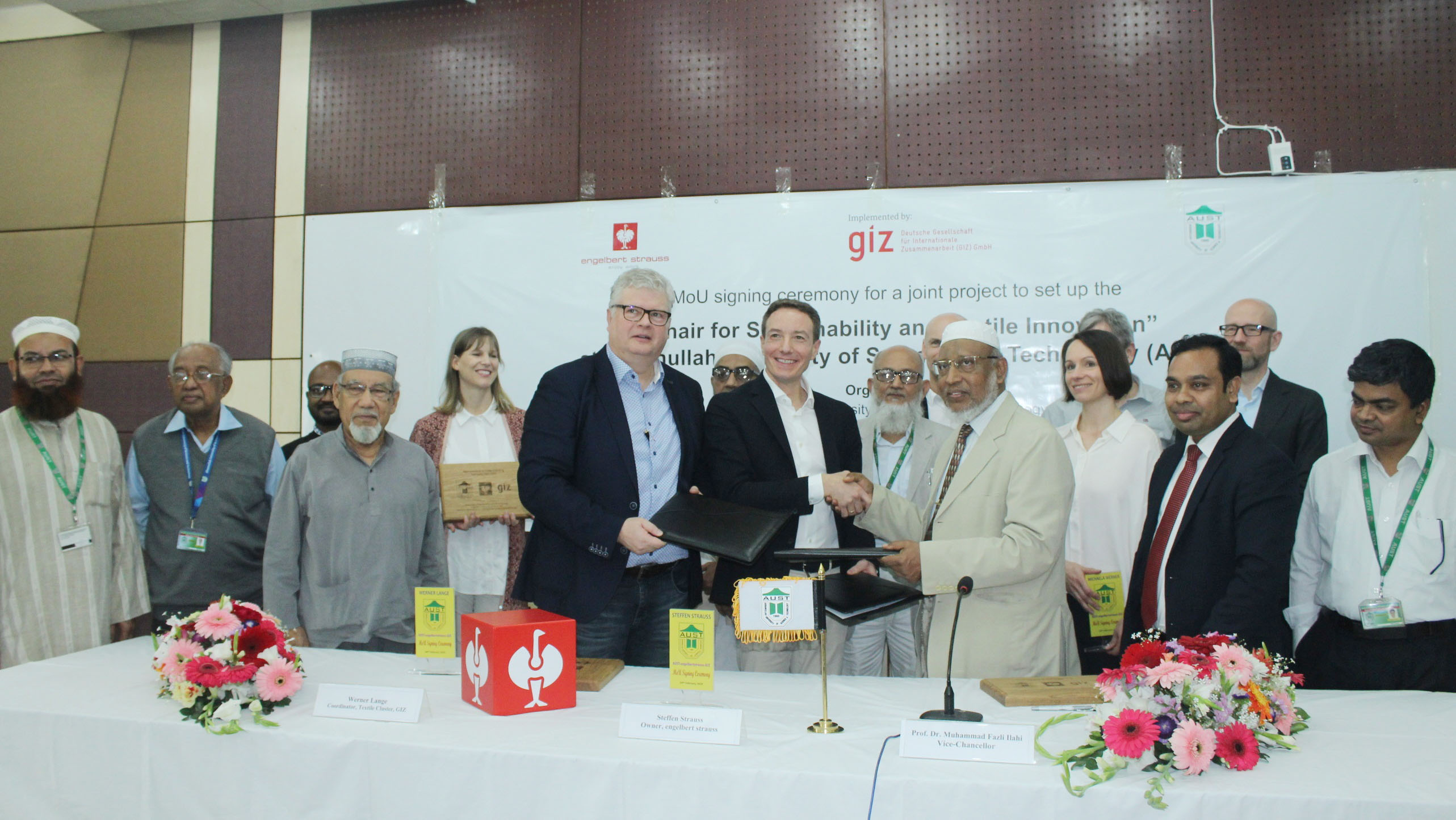 According to the MoU, Engelbert Strauss would like to promote the quality of higher education in Bangladesh. The goal is to improve capacities of future university graduates entering into the labor market. Through a cooperation and knowledge exchange among the Ahsanullah University of Science and Technology (AUST), the Technische Universität Dresden (TUD) and the United Nations University Institute for Integrated Management of Material Fluxes and of Resources (UNU-FLORES), the curricula, teaching methods & material and the quality of research will be improved. The project will train university teachers, develop curricula with a focus on sustainability and innovation in the textile sector and implement new study modules and teaching techniques at AUST.
Professor Dr. Mustafizur Rahman, Treasurer of AUST, Professor Dr. M A Muktadir, Dean, faculty of Architecture , Professor Dr. Md Amanullah, Dean, faculty of Business and Social Science, Muhammad Abdul Gafur, Registrar of AUST, Md. Ruhul Amin, Head, Department of Textile Engineering, AUST ,other Departmental Heads, faculty members from DTE and high officials of the participating organisations were present on the occasion.
Dr. Lal Mohan Baral, Professor of DTE, AUST and Coordinator of the project has been moderated the MoU signing event.