Mechanical Engineering (ME)
Overview
Ahsanullah University of Science and Technology (AUST) started full-fledged undergraduate program of Mechanical Engineering (ME) in 2011 after the establishment of the department of Mechanical and Production Engineering (MPE) in April, 2010.
The ME program at AUST offers both undergraduate and graduate degrees. The undergraduate program is a four-year Bachelor of Science (BSc) program that includes a broad range of courses in automotive engineering, thermal engineering, materials science, mechanical designs, robotics, mechatronics, renewable energy and other related fields. The program emphasizes hands-on experience through laboratory work and project-based learning, allowing students to apply their classroom knowledge to real-world problems. The ME program at AUST is rigorous and comprehensive, providing students with a strong foundation in both theoretical and practical aspects of mechanical engineering, as well as developing their critical thinking, problem-solving, and teamwork skills.
The program accepts a total of 100 students every semester, and to ensure effective teaching, classes are kept at around 50 students per class. The program has been accredited by the Institute of Engineers Bangladesh (IEB), and boasts a team of knowledgeable and experienced faculty members, including professors as well as younger, enthusiastic faculty members with Ph.D. and M.Sc. degrees in relevant fields. The program has already produced over 1700 graduates who are currently employed both in Bangladesh and internationally.
Over the years, students studying ME have taken part in a wide range of competitions and extracurricular activities. These activities have included visiting various industries for internships, as well as winning both national and international design competitions. ME students have also had the opportunity to participate in prestigious competitions and certification courses, resulting in numerous awards and professional certifications.
Overall, the ME program at AUST provides students with a comprehensive education in mechanical and production engineering, preparing them for a successful career in this rapidly growing field. The program's emphasis on practical applications and research-based learning allows students to develop the skills and knowledge necessary to address real-world engineering problems and contribute to the advancement of the field.
Vision and Missions (Mechanical Engineering Discipline)
Vision of the Program
To become a nationally and internationally recognized center of excellence for Mechanical Engineering Education with outstanding teaching and research activities.
Mission of the Program
To offer quality education in Mechanical Engineering to develop qualified and responsible graduates to meet the current challenges, requirements in engineering and multidisciplinary professional fields at the local and international levels.
Pursue an enabling curriculum besides the professional courses where the strong emphasis will also be given on acquiring knowledge and skills in mathematics, physics, chemistry, humanities, and social sciences to enrich the graduate attributes with complex problem-solving skills, diversified professional competencies, life-long learning of professional practices, and continuous self-development with robust ethical attitudes to position the graduates as successful professionals in engineering and related fields.
To practice quality teaching and scientific research activities to enrich the qualities of the graduates to contribute for the sustainable development in the social, environmental, and economic dimensions proactively with a professional demeanor.
PEO of MPE (Mechanical Engineering Discipline)
PEO1 - Professionalism
Graduates will demonstrate sound professionalism in mechanical engineering or related fields.
PEO2 – Continuous Personal Development
Graduates will engage in life-long learning in multi-disciplinary fields for industrial and academic careers.
PEO3 – Sustainable Development
Graduates will promote sustainable development at local and international levels.
Course Structure for Undergraduate Program of Mechanical Engineering
https://www.aust.edu/mpe/syllabus/me
Why Should You Choose ME as a Career?
Diverse career options: Mechanical engineering graduates can pursue careers in various industries, including aerospace, automotive, energy, healthcare, manufacturing, and more. This diversity of career options allows you to choose a field that aligns with your interests and goals.
Job stability and high earning potential: Mechanical engineering is a highly sought-after profession, and there is a strong demand for skilled mechanical engineers in various industries. This translates to job stability and high earning potential for mechanical engineers.
Challenging and rewarding work: Mechanical engineering involves complex problem-solving and requires critical thinking, creativity, and attention to detail. Successfully solving engineering problems can be incredibly rewarding and can lead to significant technological advancements.
Opportunity for innovation: Mechanical engineering is a field that is constantly evolving and requires innovation to develop new technologies, products, and solutions. Mechanical engineers have the opportunity to contribute to significant technological advancements and make a meaningful impact on society.
Collaborative work environment: Mechanical engineers often work in teams to design, develop, and manufacture mechanical systems. This collaborative work environment allows you to work with people from diverse backgrounds and skill sets, which can help you develop your interpersonal skills and expand your knowledge
ME Graduates in Higher Studies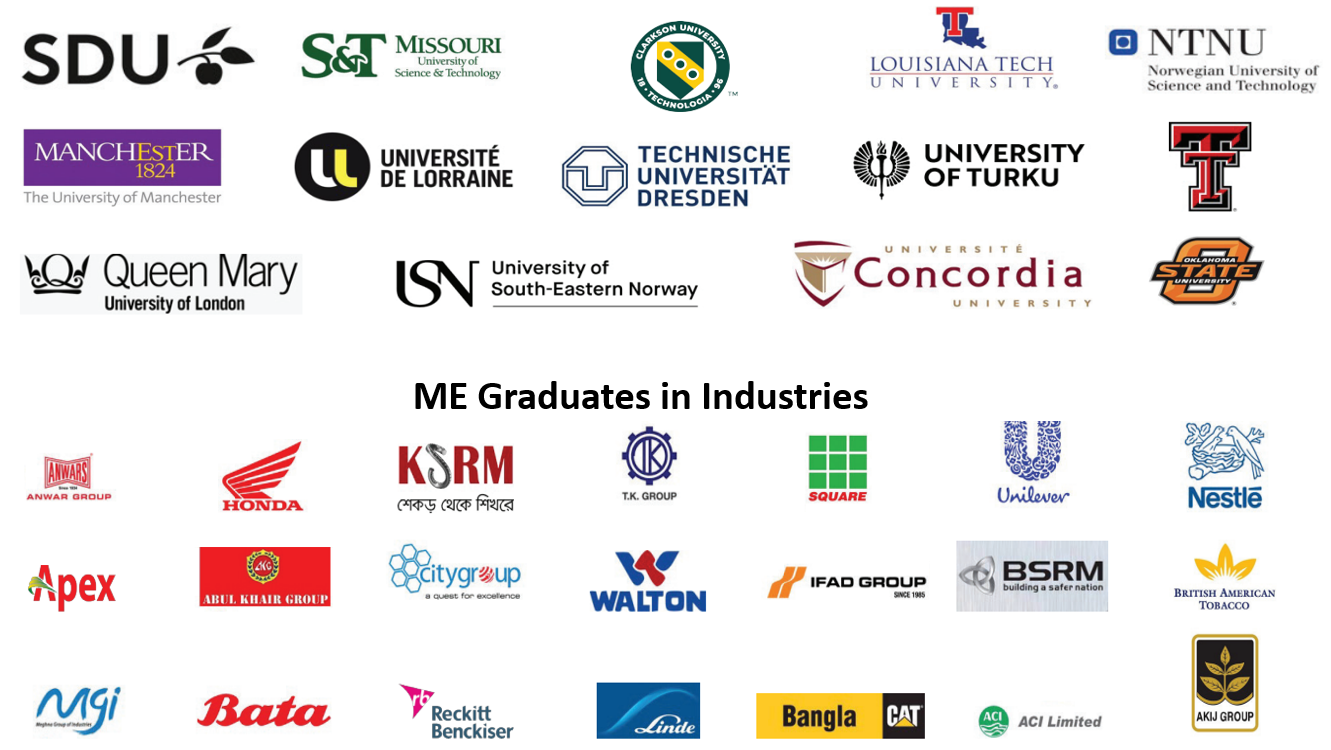 Student Organizations