Ahsanullah University of Science and Technology organized a Reception and Orientation Program to welcome the newly admitted students of Fall Semester 2014.The reception was held on 23rd October 2014 at 11.00 am. at the Multipurpose Hall of the University, Tejgaon, Dhaka. The main purpose of the Program was to introduce the law and order of the University to the newly admitted students.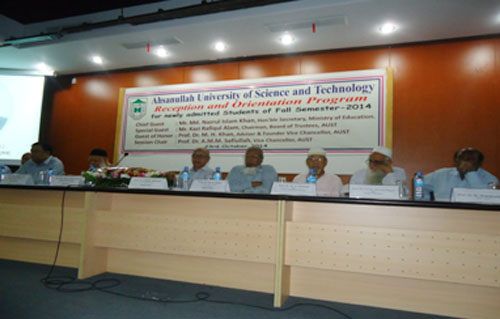 Honorable Vice-Chancellor, Professor Dr..A.M.M.Safiullah accorded reception to the Fresher's. Mr. Md. Nazrul Islam Khan, Secretary, Ministry of Education, People's Republic of Bangladesh graced the occasion as Chief Guest. Mr. Kazi Rafiqul Alam, Chairman, Bot, AUST & President, DAM, Advisor of the University and Founder Vice-Chancellor AUST prof. Dr. M.H Khan were present as special guests on the Occasion.
Besides, Advisor of students welfare, Mr. M.A Hussain, Proctor Prof. Dr. M. Shahabuddin, Dean, Faculty of Arch. And Planning Prof. Dr.M.A. Muktadir, Dean Faculty of Business and Social Science , Prof.Dr..Md. Amanullah, Dean Faculty of Engineering Prof.Dr. A.F.M Anwarul Haque, Tresurer Prof.Dr.Kazi Shariful Alam, Teachers and all the newly admitted students of various Departmnts of Fall Semester-2014 of Ahsanullah University attended the Program.
The Program started with the recitation from the Holy Quran by Assistant Professor, Department of Textile Engineering (TE) A.N.M Masudur Rahman. Then Advisor of the Students Welfare welcomed the newly admitted students and delivered his opening speeches. After that 7 students from the Department of Architecture, School of Business, Civil Engineering, Computer Science and Engineering, Electrical and Electronic Engineering, Textile Engineering, Mechanical and Production Engineering spoke on the occasion.
Mr.Kazi Ali Reza, Director, Dhaka Ahsania Mission read a brief sketch about Khan Bahadur Ahsanullah. He highlighted his contribution towards education and reformation of the society. After that Proctor of the University Dr.M. Shahabuddin spoke and welcomed all.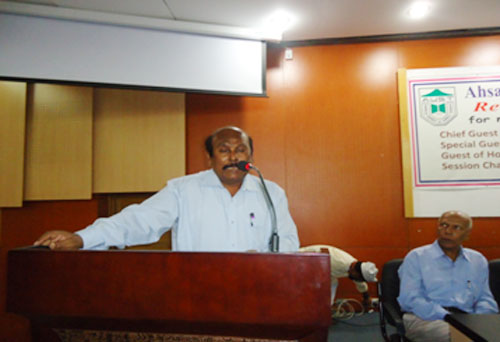 He said you all are meritorious and got chance here through the process of competion. You will stay here 4-5 years to ensure your future. He described about the rules and regulations of the University. There is a Proctor office to ensure the discipline for all the students and they should inform the office if any unnecessary harassment and ragging occur. He also said this university is completely free from politics. Smoking, playing cards are prohibited here.
Mr. Md. Nazrul Islam Khan Secretary, Ministry of Education, People's Republic of Bangladesh attained the Program as Chief Guest. While expressing his feelings on the Occasion he said it was his first attendance to such a Program and he was delightful for that. He welcomed all and said he wanted to be a teacher in his early life. So he considered participating here as his auspicious day. He advised new students to learn from the mistake because only failure can bring success.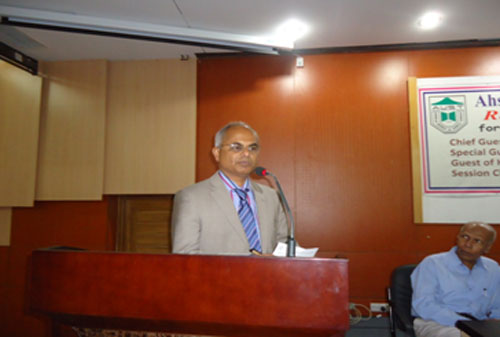 He emphasized on their education and mentioned on few things such as critical thinking and leadership quality. He also presented some of his early experiences in order to show some examples to all. At last he again thanks all to give him an opportunity to participate in such a Program.
Prof. Dr. M. A. Muktadir, Dean, Faculty of Architecture and Planning spoke after him. He addressed students that they will extend the name and fame of Ahsanullah University as well as the country and it is your right choice to be here. Prof Dr. Amanullah, Head, School of Business and Dean, Faculty of Business and Social Sciences delivered his speech after him. He advised the new students to go through text books, Library, Journals and utilize the opportunity. Prof. Dr.A.F.M. Anwarul Haque, Dean, Faculty of Engineering delivered his speeches after him. He said we have a great hope for you. To fulfill your dreams you have to work hard. Education system is different here, coaching is not allowed and teachers are very helpful, he mentioned.
Treasurer Prof. Dr. Kazi Shariful Alam In his speech mentioned about the life history of Khan Bahadur Ahsanullah. He said Ahsanullah University has proven that it is one of the best Universities in Bangladesh.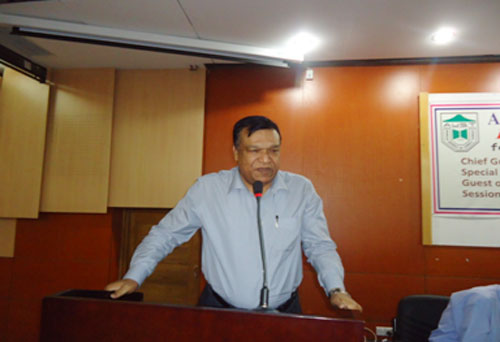 He advised the students to be more serious about studies. We strictly follow few rules and you have to abide by the rules. No offence and ragging is allowed in this University. Students must inform Proctor office if any occurrence happened. At last he again wished them all and finished his speech.
After that honorable special guest Professor M.H. Khan were requested to give his speech. He said we started from zero level and expect you will keep up the reputation of the University. He also expressed the difference between University education and School, College education.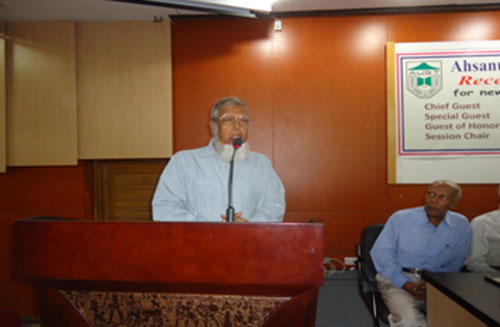 He advised the new students to be more serious and listen to their teachers.
Mr. Kazi Rafiqul Alam, Chairman, Bot, AUST & President DAM also spoke on the Occasion as Special Guest after him. He welcomed all and said you are bored with advices but you are lucky to be here. Lots of students came to me for admission but I couldn't do anything for them. He advised students to acquire knowledge. He also emphasized to set up an aim of life and reach their destination.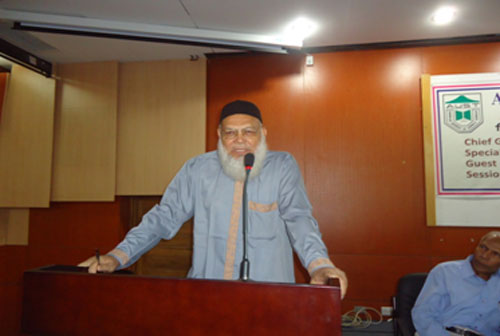 Besides studies, patriotism should be practiced, he mentioned. He also expressed his deep concern about Brain Drain. He expected students to bring change in society and life.
At last the Chairman of the session and Honorable Vice-Chancellor of the University came and delivered his valuable speeches.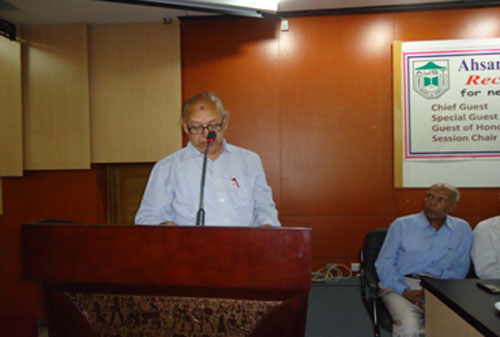 He welcomed all for the Orientation Program. He mentioned two parts are here, one is central and another is Departmental. At first he questioned all why you are here? Cos it is a very well-reputed University. He said we believe in the Philosophy of Khan Bahadur Ahsanullah that to worship Allah and serve His creation. He said we want you in 5 years you should utilize your opportunity . You have an advisor for any problem or you can come to me. I don't want to give you any new advice our Chief Guest said a lot. He advised new students to take preparation for future and gather knowledge. He also emphasized on some qualities. And those are self-confidence, good disciplines, proper time management skill etc. He said though I am on the verge of 70 still I have many things to learn.
Besides, Head of all Departments, Students, Teachers and all the employers of the University were present at the Program. After the central Program Departmental Program started. And these were organized by Departmental Heads. Many things were marked there, such as Academic Program, Course Curriculum, Exam System, Description of various semester fee, rules of Exam and different facilities.