The Seminar and Workshop Organizing Committee of the Department of Architecture organized a seminar on "Know Your Trees" by Architect and Naturalist Mustaque Quadry, on August 10, 2023, in the VC Seminar Room at Ahsanullah University of Science and Technology.
Ar. Quadry is a self-taught naturalist who received his architecture degree from BUET in 1983. He oversees the Bishwo Shahitto Kendro course "Trees, Flowers and Nature." He works with Domus as an Associate Architect and advises Volume Zero Ltd. He has been involved in studies, conversations, environmental excursions, and different tree-related activities for the past 33 years.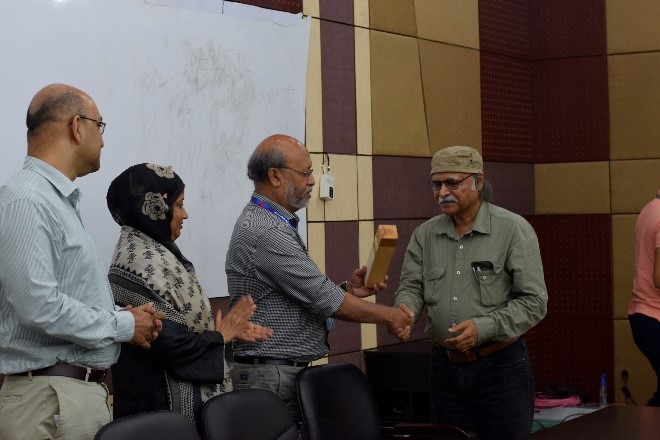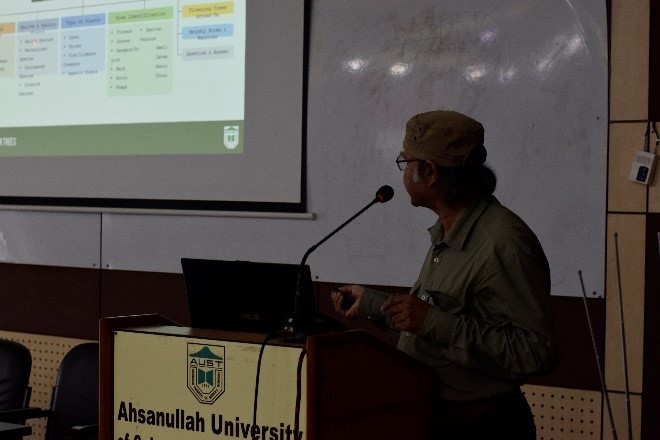 One of the most important elements of our daily lives, nature, and surroundings are trees and greenery. As architects, are the ones who design the environment, it is imperative that we get to know the trees and learn about their qualities. But we rarely consider how to identify a tree. Every tree has a distinctive quality that identifies the type of tree it is. The only way we can correctly recognize each tree is if we comprehend these features.
On behalf of Seminar and Workshop Organizing Committee, Ar. S.M.Arafat Hossain, Assistant Professor Department of Architecture, welcomed everyone to the event and welcomed Ar. Mustaque Qaudry as the presenter. The lecture "Know your trees" explains how to recognize trees. This unique work has thoroughly established its exceptionality, especially the results that take context into account. The audience, especially the students, found this presentation to be very motivating. In this motivational lecture, the speaker looked at how architectural practices were changing while sharing their inspiration for using landscape design in architecture.
A Crest was presented to the presenter Ar. Mustaque Quadry by the Pro Vice-Chancellor Prof. Dr. Mohammed Mahbubur Rahman, accompanied by Prof. Dr. Jasmin Ara Begum, Dean, Faculty of Architecture and Planning. Prof. Dr. Shehzad Zahir, Convenor, Seminar and Workshop Organizing Committee.
At the end of the event Ar. S.M.Arafat Hossain thanked the presenter, Pro Vice-Chancellor, Dean, all the teachers and students for their kind presence. Additionally, he acknowledged Ar. Naimul Aziz, Ar. Nafisa Bari, and Ar. Ishrat Momtaz Badhan and student volunteers for their efforts to organize the seminar.