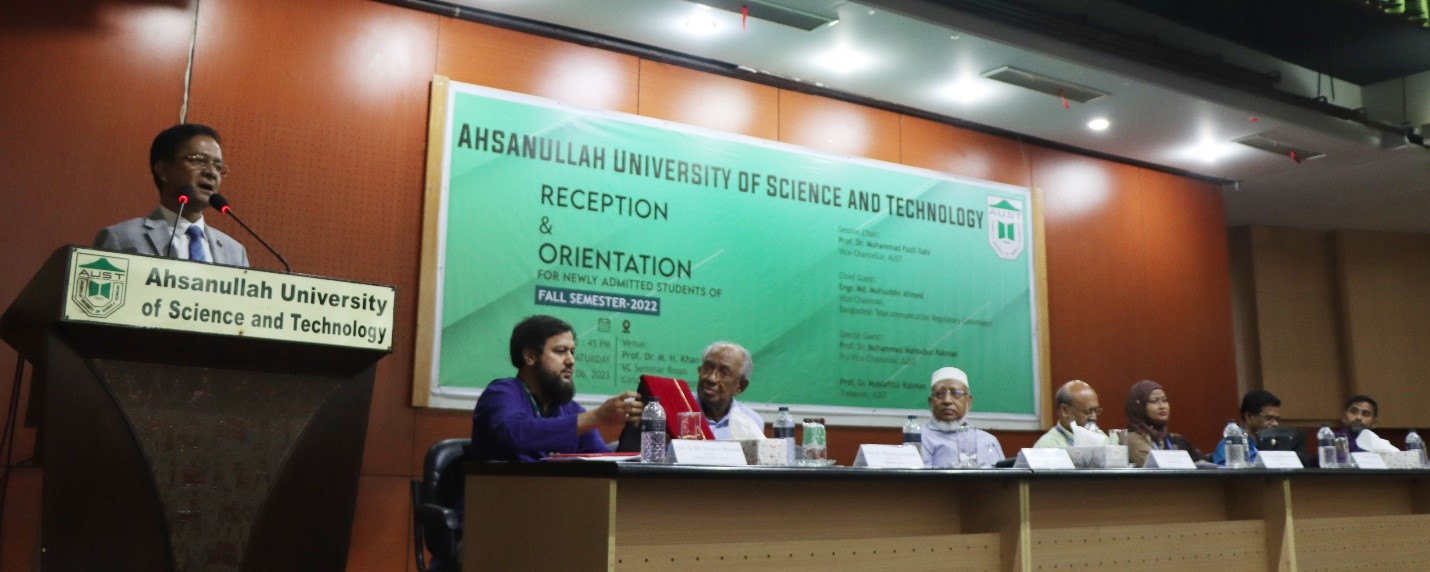 A day-long program for Reception and Orientation of newly admitted students for Fall-2022 Semester was organized at Ahsanullah University of Science and Technology. The program was held on Saturday, 06 May 2023 at M.H. Khan Auditorium.
Engr. Md. Mohiuddin Ahmed, Vice-Chairman, Bangladesh Telecommunication Regulatory Commission attended the program as the Chief Guest and spoke on the program. Prof. Dr. Mohammed Mahbubur Rahman, Pro Vice-Chancellor, AUST and Prof. Dr. Mustafizur Rahman, Treasurer, AUST spoke as Special Guests. The program was chaired by Prof. Dr. Muhammad Fazli Ilahi, Vice-Chancellor, AUST.

Prof. Dr. Muhammad Fazli Ilahi, Chair of the Program welcomed the newly enrolled students of AUST and spoke on the various aspects of activates in the campus expected from the students.
Prof. Dr. Md. Mahmudur Rahman, Dean, Faculty of Engineering, Prof. Dr. Jasmin Ara Begum, Dean, Faculty of Architecture, Prof. Dr. Saleh Md. Mashehdul Islam, Dean, Faculty of Business and Social Science, Prof. Muhammad Saiful Islam Mallik, Proctor, Dr. Md. Zillur Rahman, Librarian spoke on the various issues of rules and regulations as well as guidelines. Academic discipline and extra co-curricular activities of the University were highlighted. Few newly admitted students Zannatul Ferdous, Tasfia Aerin Sarker, Bristy Roy, Faiad Nakib, Sanjida Islam, Sharaf Al Habib, Faiza Tasnim Rafsa and Nazmus Sakib expressed their feelings of getting admission at AUST. Among others Teachers, Officers and Students were present. The program was anchored by Advisor of Students' Welfare of AUST, Prof. Dr. Md. Meganur Rhaman.