"In Quest of Coherence", a seminar was held on Sunday, November 26, 2016 at AUST Seminar Hall, Ahsanullah University of Science and Technology by Cubeinside Design Ltd, a leading architectural consultancy firm of Bangladesh. Having a group of young enthusiastic architects, Cubeinside focuses on the varied fields of contemporary architecture. From its inception, the firm has progressively widened its field of activities and focuses on providing a comprehensive and integrated project management and specialized consulting services. Four partners of the firm, Khandaker Ashifuzzaman, Ahmed Firoz-Ul-Hoque, Md. Sharifuzzaman and Md. Shakhawat Hossain graduated from Department of Architecture at Bangladesh University of Engineering and Technology (BUET) in between the year 2009 and 2011. Cubeinside Design Ltd. is currently working on building projects like vacation house, single family residence, apartment building, housing complex, commercial building, museum, library, factory building and prayer halls.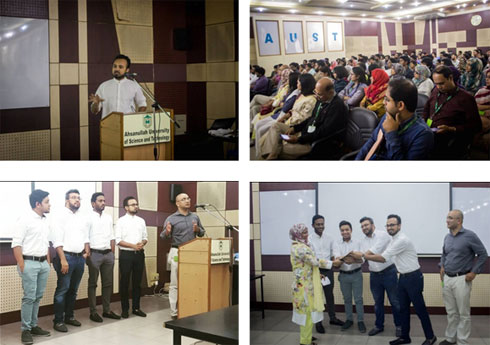 First of all, the presentation was started with tale of the triumphant journey of the consultancy firm. One of the team leaders, Ar. Khandaker Ashifuzzaman gave an explanation on how a dream of making successful architectural firm gained tangible existance through the years. Then the design and construction phase of Anjuman Jr. Tower, design competition organized by IAB and Anjuman Mufidul Islam and Presentation phase of Coordinated Complex of Department of Public Libraries and National Museum design competition organized by IAB and ministry of cultural affairs, was explained by Ar. Md. Shakhawat Hossain and Ar. Khandaker Ashifuzzaman. They shared also different approaches of modern architecture by different practical ongoing projects in Dhaka with the audiences. Through these works Cubeinside represents our national spirit, urban culture and traditions and give the most modern look by exploring different concepts and ideas by more sensitive preferences.
Finally, Head of the Department, Prof. Dr. Jasmin Ara Begum concluded the programme by giving vote of thanks. The seminar was arranged by Seminar and Workshop organizing Committee, Department of Architecture, Ahsanullah University of Science and Technology, Dhaka. The seminar was moderated by Prof. Dr. Shehzad Zahir, Convener, Seminar and Workshop organizing Committee and supported by the committee members, Ar. Jayedi Aman, Ar. Tanzila Samad Chowdhury, Ar. Sheikh Rishad Ahmmad and Ar. Ishrat Badhan. Faculty members and students of Architecture Department of AUST were present there.