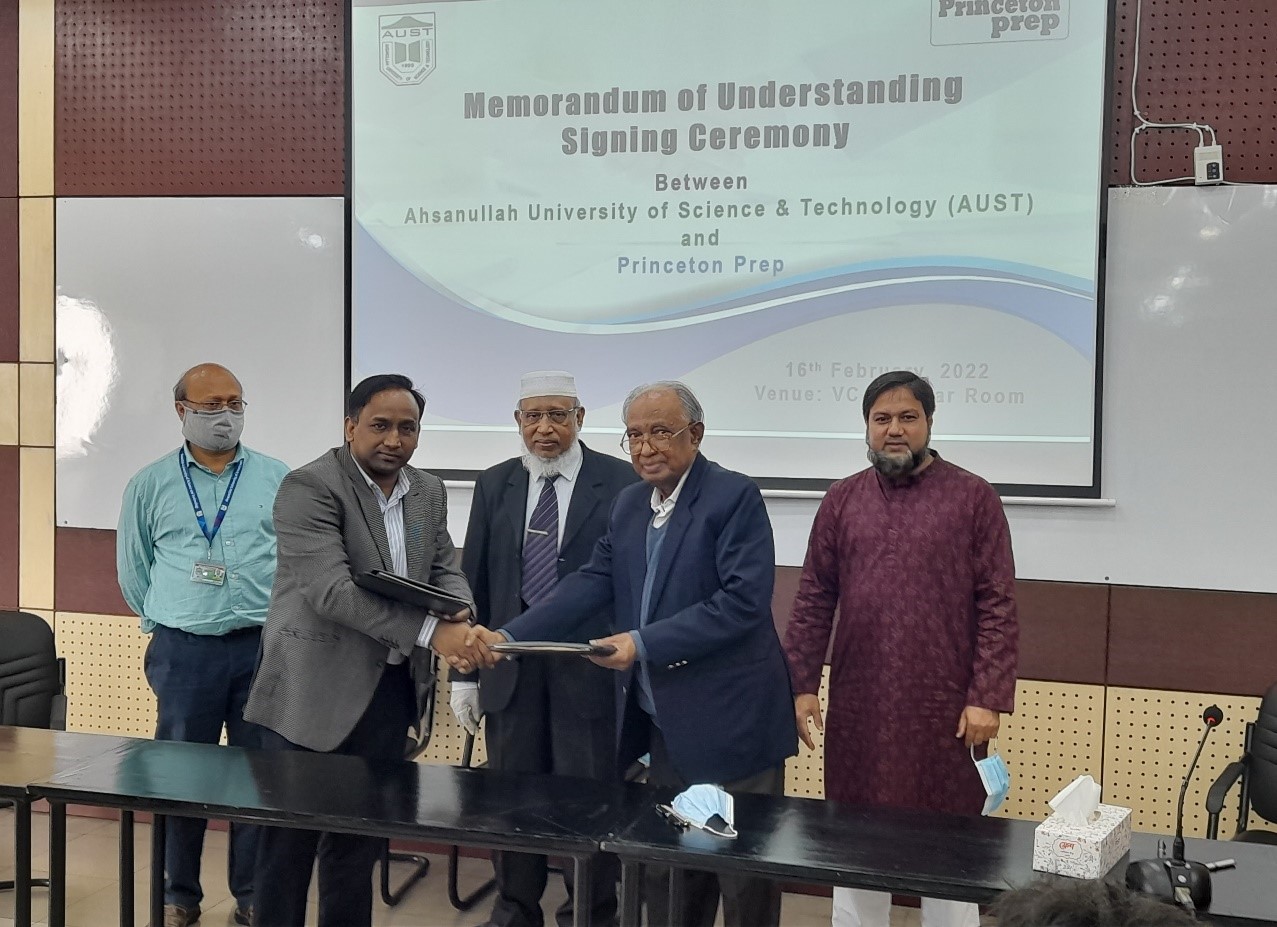 Ahsanullah University of Science and Technology signed a Memorandum of Understanding (MoU) with Princeton Prep on February 16th, 2022 with a view to facilitate Standardized Test Preparations for GRE, IELTS, GMAT, SAT and TOEFL etc for AUST students, faculty members, staff and alumni. This agreement also includes Business Communication and Academic Writing Course for the undergraduates at subsidized rates.
Prof. Dr. Md. Meganur Rhaman, Advisor of Students' Welfare moderated the program starting with his welcome speech. Prof. Dr. Mustafizur Rahman, Treasurer of Ahsanullah University of Science and Technology signed the agreement in presence of Prof. Dr. Muhammad Fazli Ilahi, Vice-Chancellor of AUST who was present as the Chief Guest. Prof. Dr. Mahbubur Rahman, Pro-Vice-Chancellor of AUST was present as Special Guest. They gave their motivational and valuable speeches on this auspicious instance. They opined that this agreement would benefit AUST students in fulfilling their dreams in terms of higher studies abroad and would help enhance their capabilities in the job market nationally and internationally. On behalf of Princeton Prep, Mr. Makhjanul Islam, Advisor, Princeton Prep, signed the agreement.
Prof. Dr. S.M. Shafiul Alam, Head of the SoB, Prof. Dr. Lal Mohan Baral, Head of the Textile Engineering, Dr. Mohammad Harun-Or-Rashid (AASW), Tanveer Ahmed Belal (AASW), Md. Ajwad Anwar (AASW), Amina Tayeaba Khan, Career Counseling Officer were present, while Mr. Aslam Khayer (Chief Trainer and Advisor-Test Preparation), Mr. Sanaullah Sunny (Advisor-Finance), Habibul Mazid Sajib (CEO) from Princeton Prep participated in the function.