As a part of Architecture week 2016, Deptarment of Architecture, Military Institute of Science & Technology (MIST) organized a day long Design Charrette for First Year Students, held on 22nd February, 2016 at the MIST campus, Mirpur Cantonment, Dhaka. One hundred and fifteen students from different reputed universities - BUET, MIST, AUST, UAP, Stamford University & State University of Dhaka participated in the competition. Thirty eight students of Department of Architecture, Ahsanullah University of Science and Technology (AUST) performed and submitted their idea projects. The project of Rabeya Akter of 1st Year 1st Semester of AUST was nominated as the best design and won the First Prize.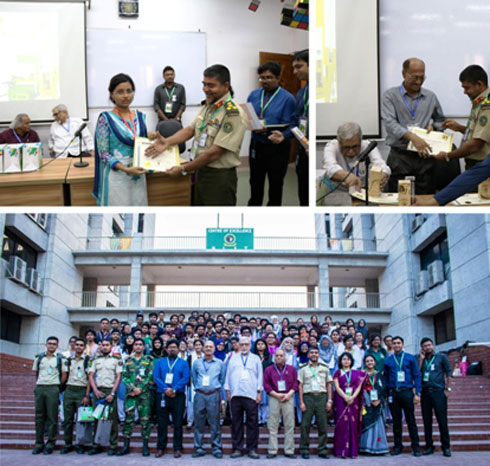 Figure 01 (Upper left): Rabeya Akter receiving the first prize from Brig Gen K.M. Salzar Hossain,ndc,psc, Head, Department of Architecture, MIST; Figure 02 (Upper right): Juror Ar. A.B.M. Mahbubul Malik receiving the souvenir crest, Figure 03 (bottom): Participants, Jurors and the organizers of Design Charrette.
Noted educationists Prof. Shamsul Wares from University of Asia Pacific, Prof. Meer Mobashsher Ali from Southeast University and Assoc. Professor A.B.M. Mahbubul Malik from AUST were present as Jurors.