Ahsanullah University of Science and Technology organizes a farewell ceremony for the outgoing students of Fall-2017 in its M H Khan Auditorium on last 15th February'18. Founder VC and Advisor of AUST Prof. Dr. M H Khan graced the program as a Chief Guest, while Prof. Dr. Kazi Shariful Alam, Treasurer was present as special guest and it was chaired by Prof. Dr. A.M.M Safiullah, Vice-Chancellor of AUST. The Program started with the recitation from the Holy Quran. At the beginning, one outgoing student from each Department spoke on their experiences in this University. They expressed their gratitude to the Teachers for giving them an academic environment and for imparting quality education during their stay in this University. They also appreciated the teachers for their devotion in careful guidance.
Prof. Dr. M H Khan, Honorable Chief Guest told the students that, you are the assets of this university. By applying knowledge you acquired here, you will bring about the prosperity of the country and develop yourselves as skilled person and be globally recognized. In the era of science and technology, innovation must be prime target for achievement. He mentioned that, challenges await them. Years of training and knowledge you have gathered which can be met through.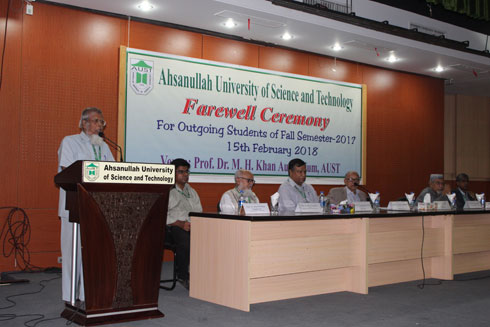 Chair of this program Prof. Dr. A.M.M Safiullah, Vice-Chancellor of AUST in his speech congratulated all for arriving at competitive stage of their study at AUST. He urged graduating students to engage themselves in innovative works. He wants to outgoing students as good ambassadors of this University. He called upon the leaving students to form and connected to an Alumni Association. He advised them not to forget discipline and good manners that they have been taught here, He wished them farewell and best of luck in days ahead.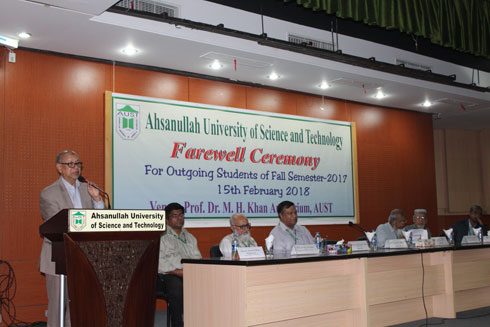 Prof. Dr. Kazi Shariful Alam, Treasurer of AUST attended the ceremony as the special guest. He spoke on the ceremony congratulating all students those are going to be graduate of AUST. He reminded the outgoing students that, they are now trained to prove their excellence, not fall behind others. He prayed for their success in coming life.
Deans, Proctor and ASW spoke on the occasion. Among others Heads of the Departments, Teachers, Officers and Students were present in the ceremony.