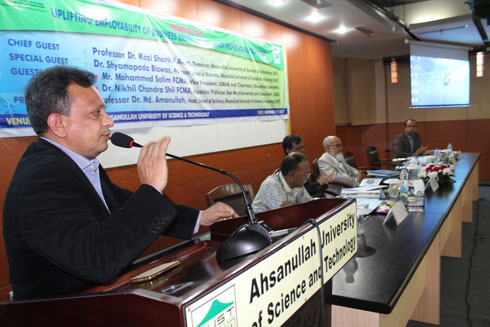 A very lively and vibrant seminar of "Uplifting Employability of Business Graduates through Professional Education" was held at M.H Khan Auditorium of Ahsanullah University of Science and Technology on November 27, 2017 at 3:30 P.M where distinguished speakers delivered their valuable speech to motivate and encourage business graduates to pursue professional degrees. This program was arranged jointly by the Institute of Cost and Management Accountants of Bangladesh, ICMAB and Ahsanullah University of Science and Technology (AUST).
This seminar was chaired by Professor Dr. Md. Amanuallah who is the Head and Dean of School of Business, AUST and Professor Dr. Kazi Shariful Alam, Treasurer and Acting VC, AUST was the chief guest of the program. Also Professor Dr. Shyamapada Biswas was present as special guest. Professor Dr. Shwapan Kumar Bala FCMA, Mr. Mohammed Salim FCMA, and Dr. Nikhil Chandra Shil FCMA were present in the program as guests of honor.
Speakers of the seminar focused mainly on the career aspects of the business graduates in present competitive and challenging job market. They explained how professional degree can help business graduate climb the ladder of success smoothly and how much demanding is a professional degree to become good corporate personnel. They brought forward the names of some very successful people who have reached the pinnacle of success with professional degree. They also talked about the current benefits and opportunities for the job market participants with professional degrees. Almost 500 students from the School of Business, AUST and the respected faculties were present there.
At last, the program was ended with the valuable speech of the session chair who urged the students to add value through professional education followed the exchange of token of honor between AUST and ICMAB and distribution of refreshment among the students.