Ahsanullah University of Science and Technology Debating Club has recently organized one of the famous events of the university named as "3rd AUST-DC Intra University Debate Championship - 2017". This was held from 4 to 6 July, 2017 at AUST premises. For the first time a segment named "Public Speaking" was held and it reflects huge response. Another segment was "Bangla Parliamentary Debate". Both freshers and regular debaters of the club performed in this segment. Around 20 debaters in Public Speaking and 7 teams (three members in each team) in Bangla Parliamentary debate were performed. Regarding "Public Speaking" segment the club has found one Winner and one Runner-up. It is to be mentioned that winner of the "Public Speaking" segment was none other than a very newly fresher which brings positive aspects among the new debaters.
In the prize giving ceremony day, two finalist teams have performed for Bangla Parliamentary Debate on 6th July, 2017 at VC-seminar room, AUST. Winning and Runner-up team were awarded from respected guests. Chief Guest of this prize giving ceremony was Honorable Prof. Dr. Kazi Shariful Alam, Treasurer of AUST & special guest was Prof. Dr. Sharmin Reza Chowdhury, Advisor of Students' Welfare of AUST. Ms. Marjia Haque, Assistant Professor Dept of MPE and President of Aust Debating Club was also another guest of the ceremony.
Here are some Images of the event: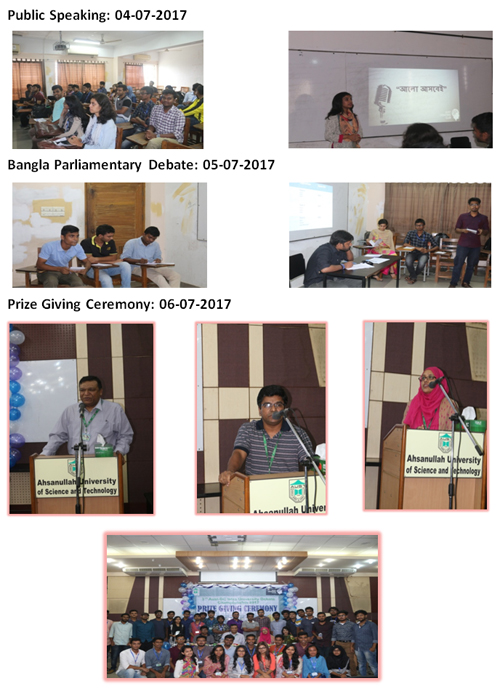 This is how AUST-DC has successfully organized its third addition of Intra university Debate championship-2017.