AUST holds 10th Convocation

Ahsanullah University of Science and Technology celebrated its 10th Convocation on 09th January 2018 at the Bangabandhu International Conference Center (BICC), Sher-e-Bangla Nagar, Dhaka. Mr Nurul Islam Nahid MP, Honorable Minister of Education, presided over the ceremony on behalf of the Chancellor of AUST and Honorable President of Govt. of the People's Republic of Bangladesh and conferred graduate and post-graduate degrees to 1441 students in different disciplines. Prof. Mohammad A Karim Ph D, Provost and Executive Vice-Chancellor and Chief Operator Officer, University of Massachusetts, Dartmouth graced the occasion as convocation speaker. Prof. Abdul Mannan, Chairman, UGC was special guest and Mr. Kazi Rafiqul Alam, President, AUST Board of Trustees (BoT), Prof. Dr. A.M.M Safiullah, Vice Chancellor of AUST spoke on the occasion. The ceremony was conducted by Registrar Muhammad Abdul Gafur.
The convocation began with the national anthem and recitation from the holy Quran. A total of 1441 graduates were conferred bachelor and master's degrees in eight disciplines including Architecture, Civil Engineering, Computer Science and Engineering, Electrical and Electronic Engineering, Textile Engineering, Business Administration, Mathematics and Education. Khan Bahadur Ahsanullah Gold Medal Award was given to Anika Sayera (Spring'16) and Mehjabin Imu (Fall'16) for acquiring highest CGPA from the Deptt. of Computer Science and Engineering. All graduating Students attended the convocation along with their proud families and friends.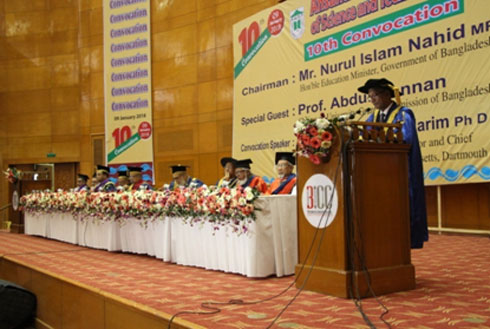 Education Minister Nurul Islam Nahid expressed his immense pleasure to congratulate the graduating students and wished them a successful life. He welcomed all saying Dear Graduates, from today you are formally acknowledged as graduate citizen of this country. Through the arrangement as burdened with solemn responsibility to serve the nation. You are honored today among thousands. Talented you all have successfully graduated from the renowned and distinct university of the country. In this age of globalization you should keep yourselves aware of all international and national issues and play a role to eradicate poverty, hungry, illiteracy and social curses from Bangladesh as well international arena. We expect from you that you would uphold the history, culture, traditions, Arts, Values and Ethics to make a just and equitable society. The achievement war of liberation, patriotism, humanity, human rights, integrity and scientific knowledge will be fulfilled.
He gave out two gold medals to students with extraordinary academic accomplishments. Finally told that, it is a proud day for AUST.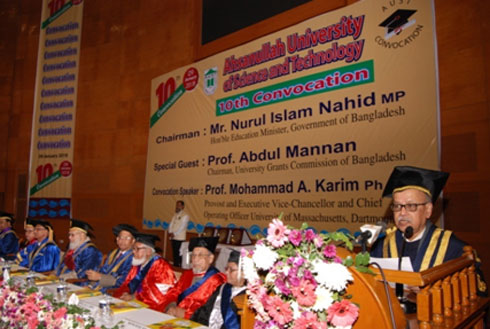 Special guest of the festivity program Professor Abdul Mannan, Chairman, University Grants Commission of Bangladesh (UGC) addressed the graduated students by saying that 'Ahsanullah University of Science and Technology has achieved huge appreciations for its commendable contribution in spreading higher education all over the country within a very short time. Government of Bangladesh also considers it one of the few best universities in the country and I hope it will be a university of international standard and will also be a role model for other private universities in Bangladesh.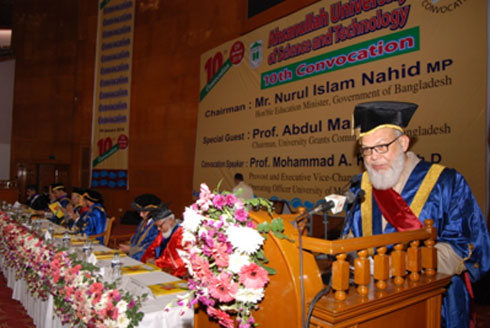 Mr. Kazi Rafiqul Alam, Chairman, BoT of AUST congratulated all the graduates and give emphasis on their hard work for the expected success in their working life. As the students who have completed their study from this university are proving their competence in their respective field in country and abroad. Because of their strong root they are not deprived of getting wind of success. He mentioned that showing respect to the memory of Khan Bahadur Ahsanullah and being permeated with the teaching and idealism of this great humanitarian philanthropic person. He advised the new graduates to work with patriotic zeal so that they can play a key role in building a liberal, democratic.
Prof. Mohammad A Karim Ph D, Convocation speaker, expressed his gratitude to be present with the students who were graduating that day. In a fantastic speech, he described how education has the ability to change anyone's life for the better. Mr. A Karim mentioned that you are already years ahead of us socially. You have all the information that mankind has gathered right in your pocket in your phone. Now use that information to find the facts to make a better world than the one we have today... You matter. You are important. Get the job done and remember to take care of each other." he told the graduates very enthusiastically to form their dream according to acquired knowledge and keep them honestly to the betterment of the nation. Speaker of the gala program several times emphasized on integrity, truthfulness, patriotism and accountability to the nation at large.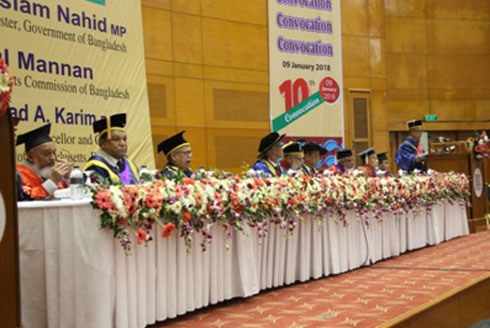 Prof. Dr. A.M.M Safiullah, Vice-Chancellor of AUST delivered his welcome speech to the graduates and expressed his gratitude for the parents of the graduates for their very sincere presence on the occasion. He told to the graduates that after a long time physical and mental exertion you are credited to a graduate degree. This degree will bring for you along with some duties toward the society being established in 1995, Ahsanullah University of Science and Technology has been producing a number of graduate students who have proved the worth by their ingenious and tireless efforts in national and international arena during their working life. You are now affiliated with them and have been made a past to the glory and splendor of the university. He told that learning and education is a journey not destination.

We all want to be happy in our personal life. But in this complex and turmoil modern days happiness is very rare to find. Conflicts, disrespect, bad faith, cheating, corruption, nepotism have depriving us of social and personal peace besides formal education. you have to acquire the ability to distinguish good from bad and light from dark. This University will consider you as a member of Ahsanullah Family. You will represent the university throughout the universe with your merit and attitude.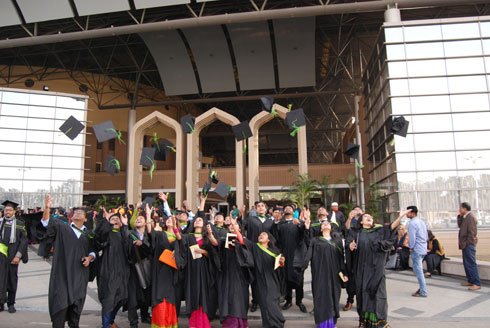 The members of the Board of Trustees, Treasurer, Deans of all the faculties, Heads of the Departments, teachers, officers, graduating students and their parents attended the convocation ceremony. The students were overjoyed upon receiving their certificates in due time after their academic life. The Convocation was followed by a dinner party in the evening arranged in the university campus where the graduates along with the teachers, officers, staffs and some distinguished guests participated.
List of Graduates according to different programs (Spring 2016 and Fall 2016 )

Program

Number of graduated Students according to Semester

Spring 2016

Fall 2016

Total

Bachelor of Architecture

40

34

74

Bachelor of Business Administration

56

112

168

Bachelor of Science in Civil Engineering

71

117

188

Bachelor of Science in Computer Science and Engineering

62*

123

185

Bachelor of Science in Electrical and Electronic Engineering

80

144

224

Bachelor of Science in Textile Technology

19

14

33

Bachelor of Science in Textile Engineering

72

95

167

Bachelor of Science in Industrial and Production Engineering

79

82

161

Bachelor of Science in Mechanical Engineering

24

38

62

Total

503

759

1262

Master Degree Program

Master of Science in Mathematics

01

02

03

Master of Business Administration

49

36

85

Master of Business Administration (Executive)

12

04

16

Master of Education

38

37

75

Total

100

79

179

Grand Total

603

838

1441