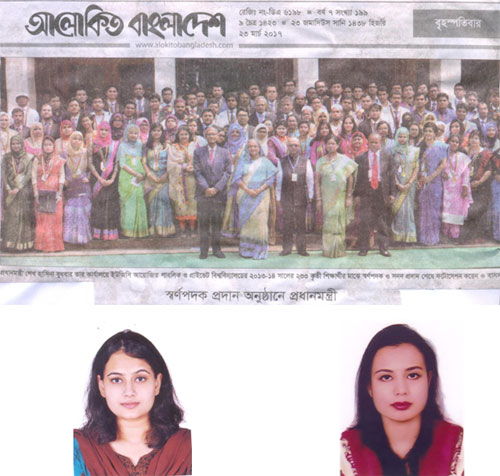 A function to award Prime Minister Gold Medal 2013 & 2014 to the outstanding students who secured the highest CGPA in the respective faculties of the universities of Bangladesh was held on 22 March 2017, Wednesday at 10:00 a.m. at the Shapla Hall, Prime Minister's Office, Tejgaon, Dhaka-1215.
This is the first time students from a private university received this prestigious award. AUST is the first private university to receive award for the year 2013 and 2014.
Ms. Khan Shagufta Shagufa of the Department of Electrical Engineering (EEE) of AUST secured GPA 3.990 out of 4.000 and Ms. Amena Begom of the School of Business (SoB) of AUST secured GPA 4.000 out of 4.000 for the year 2013 and 2014 respectively. They were awarded the prestigious Gold Medal from the Hon'ble Prime Minister Sheikh Hasina, Government of the People's Republic of Bangladesh for their brilliant result achieved in Ahsanullah University of Science and Technology (AUST).