Ibrahim Khalil student of Ahsanullah University of Science and Technology has achieved Setting Transformation Blueprint (STB) Black Belt through his 4 months' intensive journey of 128 hours of factory skill development training in 8 different courses and 128 hours of practical project work at Fatullah Dyeing and Calendering Mills Ltd regarding lab to bulk right first time.
Project Leader Md. Rahat Ullah Rashed, Head of Technical Support Taiwan Persotex Corporation, Md. Eousup Novee, GM-HR & Strategy of Textile Today, Tareq Amin, Founder & CEO of Textile Today handed over the certificate to Ibrahim Khalil at the Textile Today premises.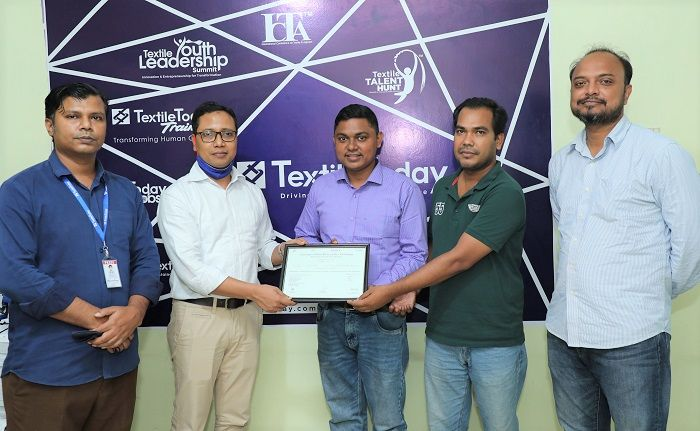 Khalil's project focuses on achieving targeted results from lab to bulk in the first go. This means at every coloring the targeted shade should be achieved the very first time, thus not requiring redyeing or recorrecting shade by adding dyes/chemicals. Usually, light shade gets lighter and dark shade gets darker in bulk production following the lab recipe. From the lighter or darker shade to desired shade it takes a multiple number of adjustments. It is not only a tiresome and complicated process but also a wastage of valuable time and resources. To avoid this adjustment, we need a lab recipe and an SOP which will give the right shade in the first time, and that was the learning of the project.
The details about "Setting Transformation Blueprint (STB) Black Belt" can be known from the news:
https://www.textiletoday.com.bd/ibrahim-khalil-achieves-stb-black-belt-fabric-technology/