A program was organized for orientation and reception of the newly admitted students of AUST for Fall 2012 Semester in the Multipurpose Hall of the University on 04 October 2012. Besides newly admitted students, all Deans and Heads of the Departments and university offices attended the program.
Kazi Rafiqul Alam, Chairman of AUST Board of Trustees and President of Dhaka Ahsania Mission graced the occasion as Chief Guest while Prof. Dr. M.H. Khan, Advisor of the University were present as Special Guest. The function was presided over by Prof. Dr. A.M.M. Safiullah, Vice-Chancellor, AUST.
Prof. Dr. Kazi Shariful Alam, Treasurer, Prof. Dr. A.F.M. Anwarul Haque, Dean, Faculty of Engineering, Prof. Dr. M.A. Muktadir, Dean, Faculty of Architecture and Planning, Prof. Sirajuddaula Shaheeen, Dean, Faculty of Business and Social Sciences, Prof. Dr. M. Shahabuddin, Proctor, Mr. M. Abul Hussain, Advisor of Students Welfare, Heads of the Departments, Registrar, Teachers and Officers of the university were also present on the occasion.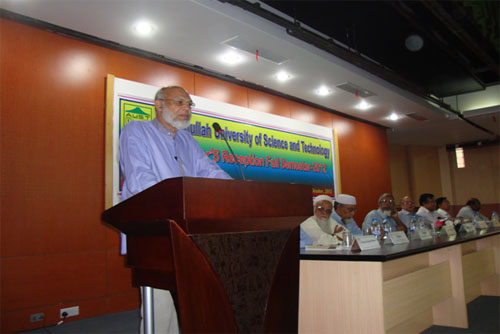 Chief Guest Kazi Rafiqul Alam said, You freshers are entering into a vital time of your life. I hope, you will utilize your time properly and concentrate on your studies to maintain reputation of this university; because the future of this university is highly depended on your success. You must implement the knowledge for the welfare of society and for the country which you will gain by learning from the university.
Special Guest Prof. Dr. M. H. Khan advised the students to give their best effort in study from the very beginning and to do well in every examination they appear at AUST in future. He advised the freshers not to depend on any tutor or coaching as coaching will not allow one to develop his mental ability and critical thinking ability. One needs to be self motivated and observant to channel his efforts towards as successful destination.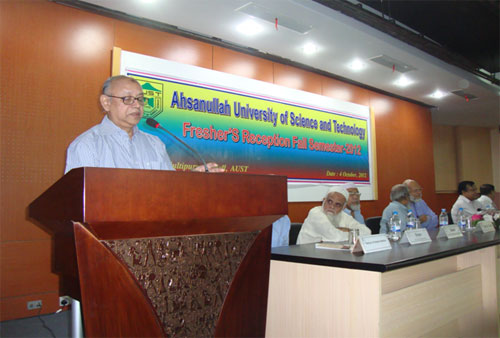 Vice-Chancellor Prof. Dr. A.M.M. Safiullah highlighted university education in the light of globalization needs so that we are internationally recognized. He also advised them to be creative and develop human, moral virtues and to serve the society as useful citizen of the country.
Prof. Dr. Kazi Shariful Alam, Treasurer, AUST in his speech highlighted the background of the establishment of AUST and paid rich tribute to Hazrat Khan Bahadur Ahsanullah (R.) for his tireless efforts in spreading education in this part of the sub-continent.
All of the speakers advised the students to follow AUST rules and regulations for a congenial academic atmosphere from which everybody will benefit.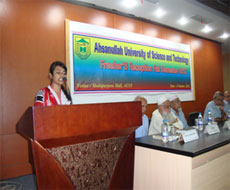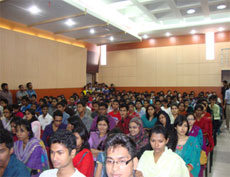 Prof. Dr. A.F.M. Anwarul Haque, Prof. Dr. M.A. Muktadir, Prof. Sirajuddaula Shaheeen, Prof. Dr. M. Shahabuddin, Proctor and Mr. M. Abul Hussain also spoke on the occasion. Two new students expressed their feelings on behalf of all the fresh students.
At the end of the reception program, the students reported to their respective departments where they were guided through academic and non-academic program of the department and rules and regulation and issues that involved their studentship at AUST.