Orientation and reception ceremony held at AUST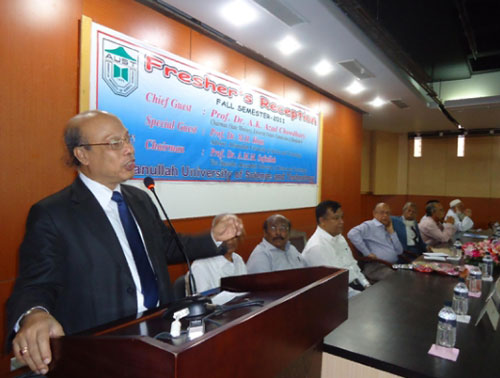 The orientation and reception ceremony for the freshers of Fall Semester 2011 was held on 20 October 2011 at Ahsanullah University of Science and Technology, 141-142, Love Road, Tejgaon I/A, Dhaka. In that program the Chief Guest was Prof. Dr. A. K. Azad Chowdhury, Chairman (State Minister), University Grants Commission, while the special guest was Prof. Dr. M. H. Khan, Advisor of Ahsanullah University. The function was presided over by Prof. Dr. A. M. M. Safiullah, Vice-Chancellor, Ahsanullah University of Science and Technology. The program started at 9.45 AM in the Multipurpose Hall of AUST. Guardians also attended the session. M. Abul Hussain, ASW, AUST gave the welcome address.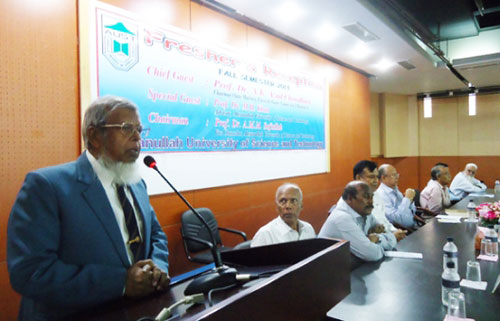 The Chief Guest expressed his warm wishes for the new comers. He said The countries that have attained high level of development are the countries that have developed their higher education. He also said in his speech Students of public or private universities should not weighed separately while measuring quality. We need to emphasize on a single issue that is the standard and environment of an educational institution. Considering AUST, it has reached a very enviable position. So, for your enrollment in AUST as new students each and everyone of you should feel proud. To the best of my knowledge AUST has skilled faculties and a good administration. I believe graduates of AUST will be able to get better jobs and will be able to serve the nation as a well educated citizen of this country.
Special Guest Prof. Dr. M. H. Khan said in his speech that Ahsanullah university always maintain the rules and regulation and that is why the quality of education is better than many other universities. I hope the new comers will maintain the laws of this university and be more attentive in their study. If they do it properly the quality of AUST graduates will be enhanced in future.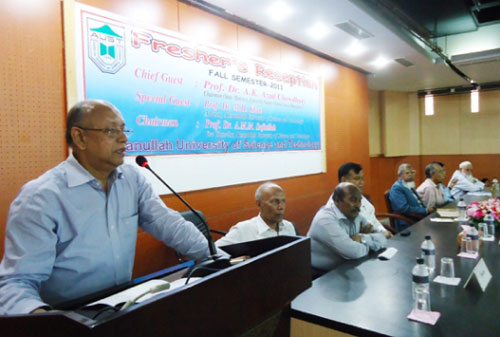 Prof. Dr. A. M. M. Safiullah, Vice-Chancellor of AUST said in his speech that All of you have a dream and I believe you have joined this university to fulfill that dream. I wish all your dreams come true. But you should remember enjoying good life does not come only from ones achievements but also requires his contribution to the enhancement of the quality of life of the society in which he lives. I never believed that education is just a way to get a job. Education is really a way to remake yourself. So, while studying science, engineering or management I would advise you to know about society, ethics and societal needs, so that you can target your education goals to the benefit of people.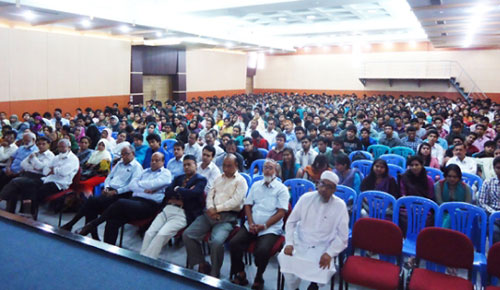 Prof. Dr. Kazi Shariful Alam, Treasurer, Prof. Dr. A. F. M. Anwarul Haque, Dean, Faculty of Engineering, Prof. Sirajuddaula Shaheen, Dean, Faculty of Business and Social Sciences, Prof. Dr. M. A. Muktadir, Dean, Faculty of Architecture and Planning, Prof. Dr. M. Shahabuddin of AUST also spoke on the function. The head of the Departments, teachers, staff and employees of AUST were also present in the function. After the general program orientation, a reception program was also held by the respective departments/School of the students. The program was led by the head of the respective department/School. Some of the topics included were academic program, course curriculum discussion on curricula and its impact on nation building, future prospects, rules and regulation related examination system, attendance in the class and information on facilities available in the departments and the university.