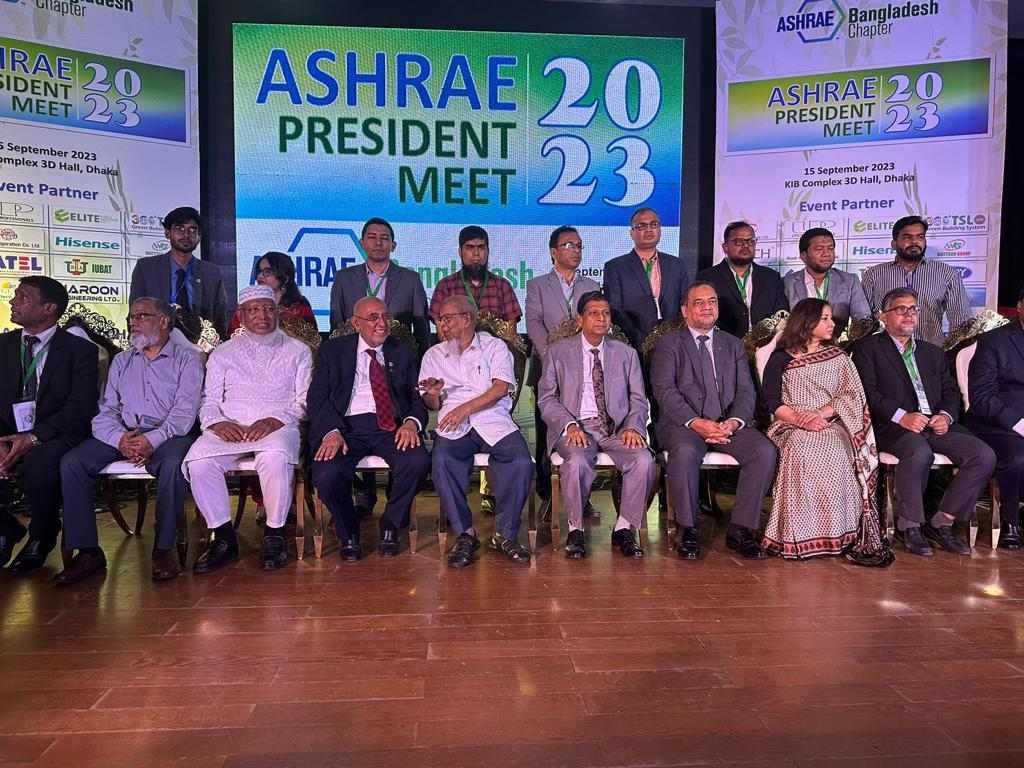 The American Society of Heating, Refrigerating, and Air-Conditioning Engineers (ASHRAE) is a well-known international association for professional engineers. For a reception of the visiting global President of ASHRAE Engr. Farooq Mehboob, the ASHRAE Bangladesh Chapter hosted the "ASHRAE President Meet 2023" program on September 15, 2023. Professor Dr. Muhammad Fazli Ilahi, Honorable Vice-Chancellor, and Professor Dr. Dewan Hasan Ahmed, Department of MPE, attended the program. The Guest of Honor was Engr. Farooq Mehboob, President of ASHRAE for the years 2022–2023, and the Chief Guest was Professor Dr. M. H. Khan, a former Vice-Chancellor of BUET and AUST.
Engr. Farooq Mehboob, ASHRAE President 2022-23, emphasized the significance of immediate action by all governments and individuals to address the global warming crisis. He also discussed the ASHRAE's initiatives in this area. Prof. Dr. M. H. Khan, the Chief Guest, underlined the importance of global warming awareness and engineers' involvement.
Honorable Vice Chancellor Professor Dr. Muhammad Fazli Ilahi emphasized the relevance of the SDGs and its integration in the curriculum, as well as more active research and awareness. He also mentioned some of the important concerns that have been addressed through AUST programs.
Engr. Muhammad Abbas Sajid, Chair, Honors and Awards Committee, ASHRAE RAL (2023-2024) appreciated the ASHRAE Bangladesh Chapter and was recognized as a STAR of the ASHRAE. Mrs. Adeeba Mehboob, Assistant Regional Chair, ASHRAE RAL (2023-2024), discussed ASHRAE's involvement in collaborative research and financing concerns.
Prof. Dr. Dewan Hasan Ahmed was on the judging panel for the Global Warming and Mitigation competition, in which students from several universities competed.
Engr. Hasmotuzzaman, immediate past President of ASHRAE Bangladesh Chapter; Engr. Faruque Ahmed, President, ASHRAE Bangladesh Chapter; and other distinguished guests were present in the program.