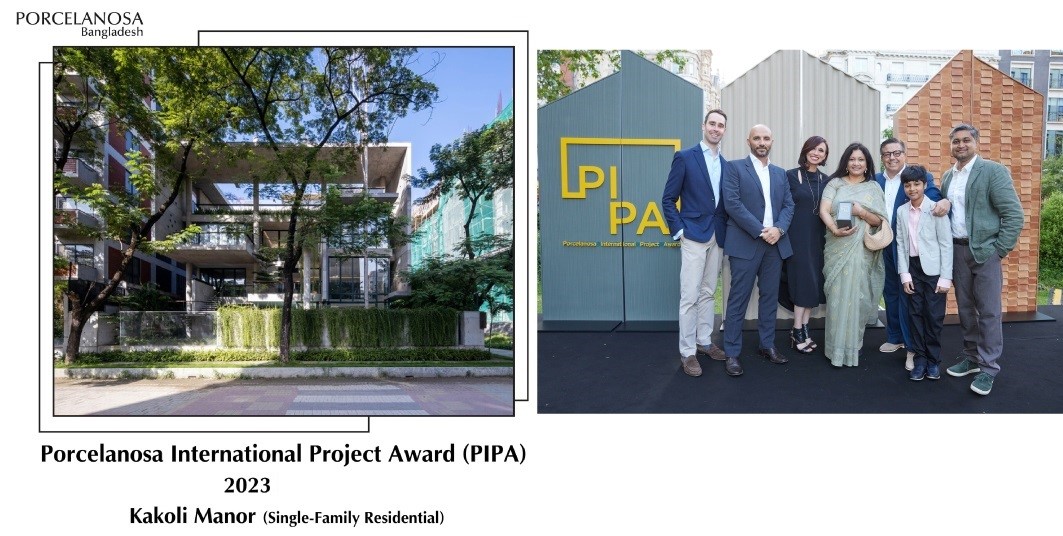 We are delighted to announce that Sanjida Ahmed Sinthia (Assistant Professor, Department of Architecture, AUST) and Architect Faisal Ahmed of F2A+Partners has been awarded the prestigious Porcelanosa International Architecture Award 2023 in the residential category for their exceptional project, "Kakoli Manor." It competed against top 4 finalists from around the world, including: Cheshire House Project by Foster and Partners & PLANIT Design from United Kingdom, Casa Lema by Gonzalo Mardones V. & Vicky Chá from Santiago, Chile, Casa Nau by Muka Arquitectura / Moisés Royo – Jesús Bermejo from Ciudad Real, Spain and Casa KM by Arquiara Arquitectura from Medellín, Colombia.This picturesque single-family home, designed with a keen eye for detail and surrounded by lush nature, emanates a profound sense of clarity and serenity.
The PIPA is an international architecture competition organized by the renowned PORCELANOSA Group. Its aim is to promote and support the creativity of architects worldwide. We are honored that F2A+Partners' project, Kakoli Manor, stood out among a pool of remarkable entries, exemplifying imagination and vision of the client.
The residential building, Kakoli Manor, captivated the jury with the "nature of its design within its location and how the building exists alongside nature and works with the elements."
Nadia Borrás, Interior Design Director at Sordo Madaleno Arquitectos, Philippe Blanchin, Creative Director at ELLE Decoration UK, Nunzio Desantis, CEO and Lead Designer at Nunzio Marc DeSantis, and Tony Abi Gebrayel, Partner at MZ Architects, made up the multidisciplinary group of international professionals on the PIPA jury.
The department of Architecture feel honored and extend heartiest felicitation and congratulations to Architect Sanjida Ahmed Sinthia, Architect Faisal Ahmed and the entire F2A+Partners team for their remarkable achievement. Their visionary approach and commitment to excellence have rightfully earned them the prestigious PIPA Award 2023 in the residential category. We eagerly anticipate witnessing future endeavors and continuous innovative designs in the field of architecture.