Eminent Architect Md. Rafiq Azam, Principal of the internationally acclaimed design practice SHATOTTO- Architecture for Green Living, has generously provided a travel bursary for a student of the Dept. of Architecture of AUST in 2016 for the first time. The bursary, now an award given to the students of many schools across the world including India, Pakistan, Canada, Australia aspires to enhance students' active learning process of new culture, context, heritage, climate and materials trough travelling across Bangladesh and also overseas. The purpose is to inspire and motivate students for a deeper understanding of belongingness.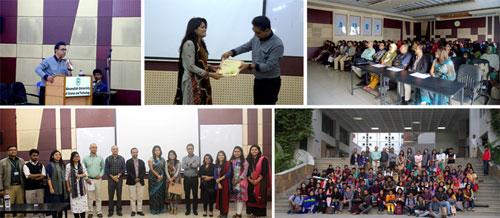 '
Figure 01 (Upper left): Speech by Ar. Md. Rafiq Azam, Figure 02 (Upper middle): Ummehani Binte Ahmed receiving the award, Figure 03 (Upper right): Audiences, Figure 04 (Bottom left): Jurors, organizers and the participants of the program, Figure 05 (Bottom right): Organizers, Jurors, faculty members with the students of architecture, AUST.
'RATB SHATOTTO' and Seminar and Workshop Organizing Committee, Department of Architecture, AUST arranged the competition program among the students on 12th December, 2016 at AUST seminar hall, AUST premise. The program started with the presentation of the participants-Shoshi Karmakar, Tabinda Rahman Chowdhury, Anuva Tabassum and Tanjila Tasnim Srijony on the topics titled 'Parampara', 'My slice of the sun', 'Opekkhar Shopnobunon', 'Where I am is who I am' and 'Loudness of silence' respectively. Associate Professor Ar. A.B.M. Mahbubul Malik, AUST, Ar. Nur E Zannat Jui from RATB SHATOTTO and Dr. Saymon Zakaria, Assistant Director of Bangla Academy were Present at jurors.After the presentation, Ar. Rafiq Azam shared the history, intention and footprint of RATB. "In the year 2008 RATB was mainly formed to have a platform for sharing knowledge across the globe" said Ar. Rafiq Azam.
Finally, Ar. A.B.M. Mahbubul Malik gave the vote of thanks to the organizers, grooming team, the audience and announced the winner of RATB 2016. Umme Hani Binte Ahmed, a fifth year student was awarded the Travel Bursary, 2016 and she will get the chance to visit Srilanka for 7 days and meet the leading architects in person. The bursary was awarded to her in the form of travel costs and subsistence allowance.
Associate Prof. Dr. Shehzad Zahir and Asst. Prof. Ar. Sujaul Islam Khan moderated the program. Head of the Department of Architecture (in-charge) Professor Jasmin Ara Begum were present at the program along with faculty members and students of the Department of Architecture, AUST