A highly enthusiastic team of 30 students from different departments and led by Mechanical Engineering discipline of MPE under the supervision of Dr. Md. Kharshiduzzaman of MPE department, AUST, participated in one of the most prestigious automotive competitions globally, IMechE Formula Student Competition 2019 held at Silverstone, Northampton, UK. 'And remarkably, they won both the 'Spirit of Formula Student and 'Formula Student Best Newcomer' awards!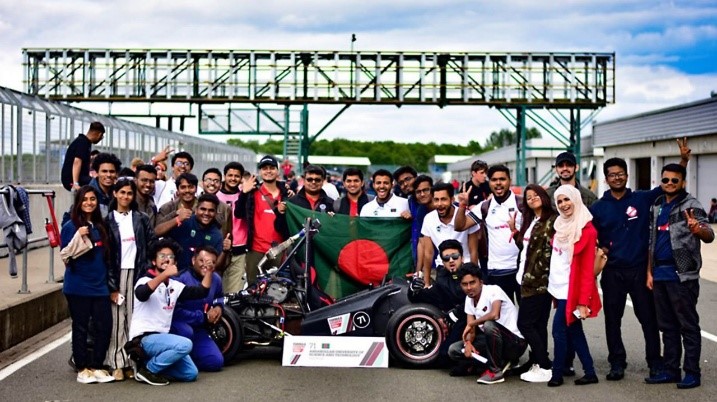 With a car powered by a 600 cc motorbike engine developing 84 HP at 11,500 RPM and 40 lb-ft torque at 10,500 RPM, and a curb weight of approximately 300 kg,
Faculty adviser: Dr. Md Kharshiduzzaman , Badhan Saha.
Student Members: Antony (Team Leader), Mack, Afnan, Bhaskar, Tarif, Shudip, Rafi , Tonmoy, Nabil, Manab, Imtiaz, Sakib, Nabil, Lamia, Pranto, Rafsan, Maham, Anika, Foysal, Naim, Mahedi, Anika, Faysal, Marleen, Nijhum, Rajanya, Rafee, Sabiha, Abony, Nahiyan , Faraz.
Awards: Spirit of Formula Student by IMechE and Allan Staniforth ' Formula Student Best Newcomer' awards.
Media coverage:
The Prestigious global: Click here.
The daily star: Click here