The grand welcome reception and the inauguration of the textile symposium, a significant event on the Symposium's itinerary, took place on September 5, 2023, at 4:30 PM at the prestigious Dresden International University, World Trade Centre. The occasion was graced by the presence of esteemed project partners and distinguished guests attending the Symposium.
The inauguration of this remarkable event was an honor, as His Excellency, Md. Mosharraf Hossain Bhuiyan, the Bangladesh Ambassador to Germany, arrived from Berlin and spoke at the opening ceremony. During his inaugural address, Ambassador Bhuiyan expressed optimism about the potential collaborations between Bangladesh and Germany, further strengthening the bonds of friendship.
Honorable Ambassador of Bangladesh in His Excellency, Md. Mosharraf Hossain Bhuiyan, Berlin during his speech
Prof. Dr. Muhammad Fazli Ilahi, Vice-Chancellor of AUST, extended a warm welcome to all attendees and officially inaugurated the symposium. Following this, Prof. Dr. Muhammad Fazli Ilahi delivered a heartfelt welcome speech, setting the tone for the event's proceedings. The Director of UNU-Flores, Prof. Edeltraud Günther, also graced the occasion with her presence and shared her insights.
The Welcome Reception featured an array of distinguished speakers, each addressing various topics of relevance to the symposium's theme. The esteemed speakers included:
Mr. Rashed Al Mizan and Ms. Noor-E-Farzana Annesha, AUST
Ms. Shirin Araghi, Designer at C&A / GIZ Consultant
With the conclusion of the opening ceremony, the Welcome Reception marked a successful beginning to the Textile Symposium. It served as a platform for the exchange of ideas, fostering
collaboration, and setting the stage for insightful discussions and interactions in the days to come.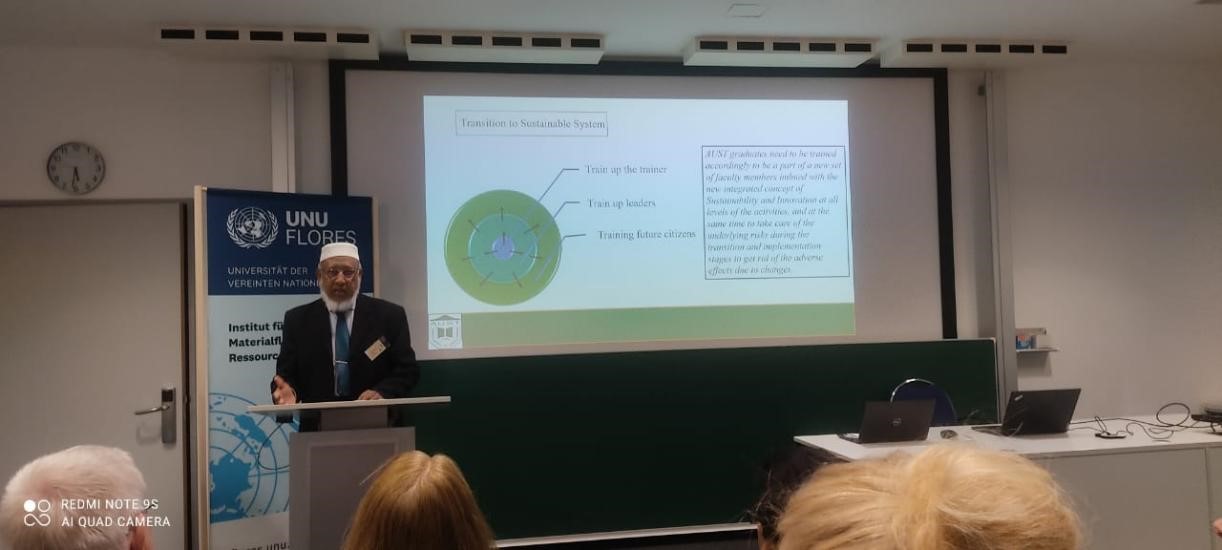 In the next two days of the symposium, the CSTI team (Prof. Dr. Lal Mohan Baral, Head of the Department of Textile Engineering, Mr. Md. Ruhul Amin, Associate Professor, Mr. Md. Mazharul Haque, Lecturer, Ms. Noor-E-Farzana, Lecturer, Ms. Iffat Ara Anannya and Ms. Tamjida Islam, Lecturer) from AUST led by Prof. Dr. Muhammad Fazli Ilahi, VC of AUST proudly participated in the esteemed International Textile Symposium, themed "Responsible Resource Use in the Textile Industry," which was held in Dresden, Germany. This event was an integral part of the broader project's activities.