-Arranged by IEOM Society AUST Student Chapter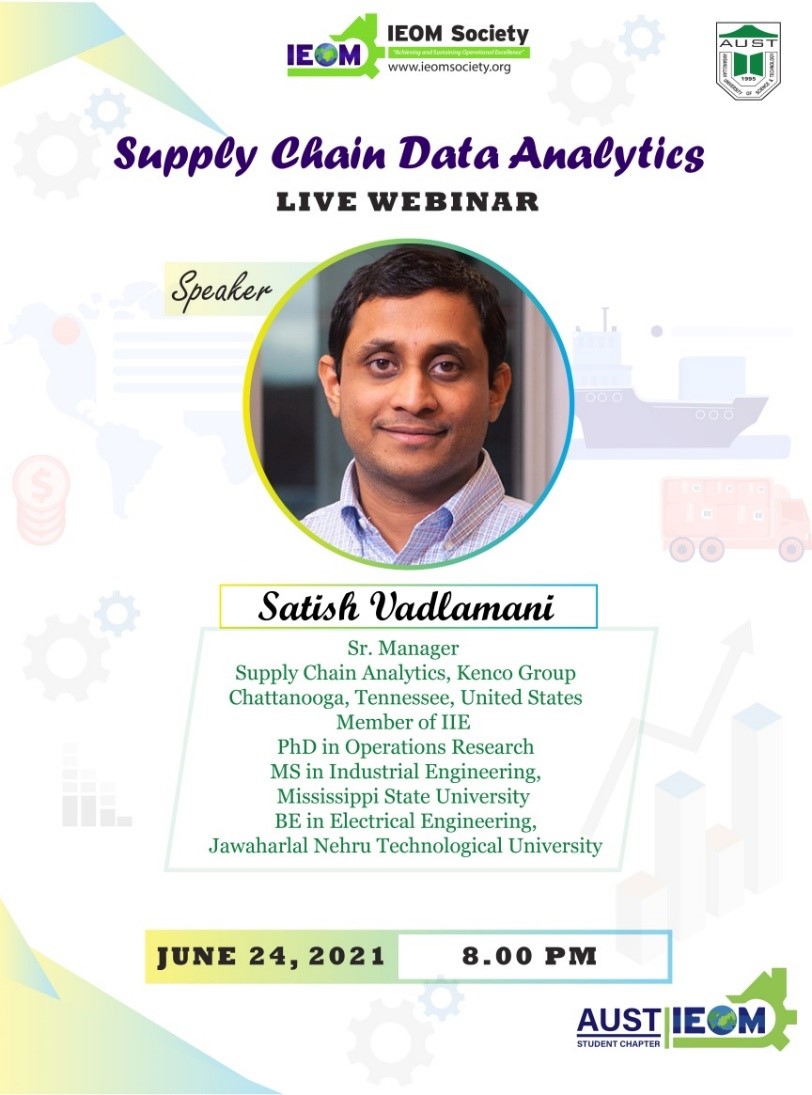 On June 24, 2021, the IEOM Society AUST Student Chapter hosted a webinar titled "Supply Chain Data Analytics" at 8:00 p.m. Bangladesh standard time. It was conducted virtually via Zoom and was also streamed live on the Facebook page of the IEOM Society AUST Student Chapter. The honorable Vice-Chancellor of AUST, Prof. Dr. Muhammad Fazli Ilahi, was present as the event's chief guest. Dr. Mohammad Sarwar Morshed, Professor and Head of AUST's MPE Department and Chairman of the IEOM Society Bangladesh, attended the event as a special guest. The webinar was graced by the presence of Professor Donald Reimer, IEOM Society International's Director of Membership and Chapter Development, and Professor Ahad Ali, IEOM Society International's Executive Director. The guest speaker for the event was Dr. Satish Vadlamani who is a senior manager, Supply Chain Analytics at Kenco Group, Chattanooga, Tennessee, United States. He is a data scientist with 7 years of experience in solving complex problems and help decision-making. He has 10+ years of experience in end-to-end global supply chain network design, facilities design, transportation optimization, supply chain sustainability, and systems development.
The webinar began with a welcome to all guests and an explanation of the roles played by the IEOM Society AUST Student Chapter in promoting student success, as well as how the AUST Chapter provides opportunities for learning and professional development for AUST students through various activities. Prof. Dr. Muhammad Fazli Ilahi sir then shared some insights and voiced support to the entire IEOM Society AUST Chapter organizing team. Prof. Dr. Muhammad Fazli Ilahi sir was also present throughout the event. Then, Prof. Dr. Mohammad Sarwar Morshed sir discussed the IEOM Society Bangladesh's roles and how the AUST chapter successfully hosted two webinars, as well as how the MPE department is heavily involved in all of the IEOM Society AUST Chapter's activities. After which our honorable guest speaker, Dr. Satish Vadlamani, gave his insightful and interactive presentation on the particular topic. He first talked about 3rd Party logistic services and the need for AI, machine learning, and analytics in the supply chain. After he gave a brief history of the supply chain, talked about data science, types of analytics, etc. Finally, he spoke about the algorithms, software, and models used in advanced analytics.
The event lasted for almost two hours, with active participation from all the attendees. More than 120 participants had joined via Zoom Platform, and an additional 20 participants remained connected through Facebook live. Some faculty members of AUST also attended, as well as faculty members from other universities were also present during the webinar. Attending this webinar will benefit all participants, and the knowledge gained will be useful in the future. We also issued all participants with e-certificates for their participation. This webinar was a success with the continual direction and assistance of Mr. Sayem Ahmed, Faculty Advisor of the IEOM Society AUST Student Chapter and Assistant Professor of MPE department, AUST.