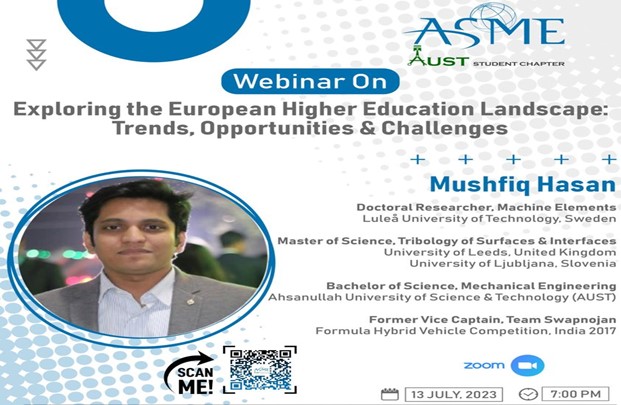 The ASME AUST Student Chapter organized a webinar titled "Exploring the European Higher Education Landscape: Trends, Opportunities & Challenges" on July 13, 2023. The webinar aimed to provide participants with a comprehensive understanding of the current state and future prospects of higher education in Europe. The event featured Mr. Mushfiq Hasan, an early-stage doctoral researcher from Luleå University of Technology in Sweden, as the keynote speaker.
Mr. Hasan, with a joint master's degree from the University of Leeds, UK, and the University of Ljubljana, Slovenia, has a background in Mechanical Engineering with a specialization in applied tribology and lubrication. His ongoing doctoral research focuses on the optimization of water-based lubrication systems for the next generation of electric vehicle transmissions. Hasan's expertise extends beyond his primary research area, encompassing fields such as lubricants, gears and bearings failure analysis, surface treatments and characterization, maintenance technology, and heat and mass transfer.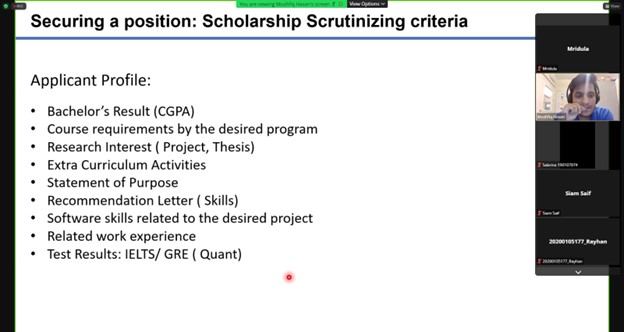 During the webinar, Mr. Hasan shared his research contributions and experiences, which include collaborations with prominent organizations such as Geely Automobile in Sweden, SKF BV in the Netherlands, and TINT Laboratory in Slovenia. He also highlighted his work as an assistant engineer in power plants in Bangladesh, further enriching his understanding of practical applications and real-world challenges.
The webinar delved into various aspects of the European higher education landscape. It examined key trends shaping the sector, including internationalization, technological advancements, and the increasing demand for lifelong learning. Participants gained insights into the impact of internationalization on student and faculty mobility, research collaborations, and the global outlook of European universities. The integration of technology in higher education, such as digital learning platforms and online education, was discussed, along with the potential of emerging technologies to transform the learning experience.
One of the focal points of the webinar was the need for universities to adapt their curricula to meet the changing requirements of the workforce. Hasan emphasized the importance of interdisciplinary programs, practical skill development, and fostering innovation and entrepreneurship within higher education institutions. Participants gained valuable insights into strategies and best practices for creating an environment conducive to the evolving needs of students and the job market.
The webinar also addressed the challenges faced by European higher education. Funding constraints, demographic shifts, and the delicate balance between preserving traditions and embracing innovation were discussed in depth. Hasan and the participants engaged in thoughtful discussions on overcoming these challenges and creating a thriving higher education environment that meets the demands of a rapidly changing world.
In conclusion, the webinar "Exploring the European Higher Education Landscape: Trends, Opportunities & Challenges" provided a comprehensive overview of the current state and future directions of higher education in Europe. Participants gained profound insights into key trends, opportunities, and challenges, enabling them to navigate the evolving educational landscape with confidence. The ASME AUST Student Chapter's efforts in organizing such informative webinars contribute to the dissemination of knowledge and promote engagement with experts in the field.