From 24th June 2023 to 26th June 2023, 5 students of 4th year 1st semester of ME Program of MPE Department visited Bheramara 410MW Combined Cycle Powerplant, Bheramara, Kushtia under North-West Power Generation Company Limited. The Bheramara 410 MW Combined Cycle Power Plant in Bheramara, Bangladesh is an advanced facility that efficiently generates electricity. Operating on a combined cycle configuration, it utilizes a gas turbine, steam turbine, and heat recovery steam generator. With natural gas as fuel, the gas turbine generates electricity, while the HRSG captures waste heat to produce steam for the steam turbine, further generating additional electricity. Equipped with advanced technologies and control systems, the plant ensures optimal performance, reduced emissions, and adherence to environmental standards. With a capacity of 410 MW, it plays a significant role in meeting Bangladesh's electricity demands and contributes to sustainable development. The Bheramara Power Plant is a beacon of progress, playing a vital role in powering industries, improving access to electricity, and fostering sustainable development in the region.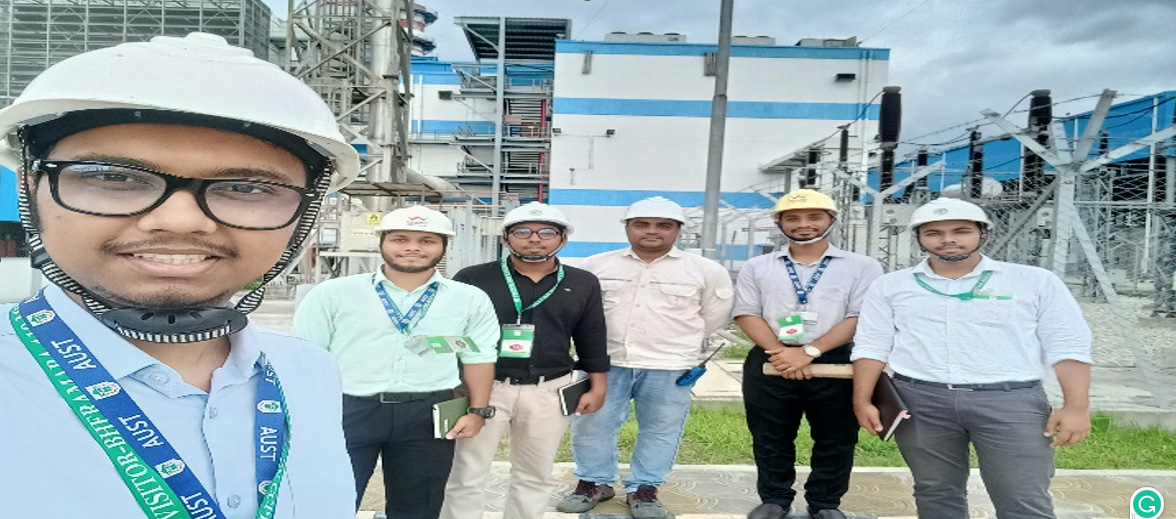 The visit of them to the Bheramara 410 MW Combined Cycle Power Plant as engineering students was an exceptional experience characterized by the plant's outstanding hospitality and effective teaching methods. Over three days, they were warmly welcomed and provided with a structured learning program. The first day involved a comprehensive plant tour, introducing them to the operations and security measures. On the second day, the focus was on the mechanical maintenance department, gaining practical knowledge and demonstrations. The final day included visits to the store room, electrical maintenance department, and instrumentation and control area, expanding our understanding of plant infrastructure. The staff patiently addressed all the questions, creating an ideal learning environment.

In conclusion, the visit to the Bheramara 410 MW Combined Cycle Power Plant has been described as an incredibly enriching experience for the students involved. The plant's exceptional hospitality, commendable teaching techniques, and unwavering dedication to offering aspiring mechanical engineers a valuable and unforgettable experience have been gratefully acknowledged.