A group comprising 43 Mechanical Engineering students from 4th year, 2nd semester (section B), along with the faculty member Mr. Alinoor Zaman and Mr. Partha Pratim Roy from MPE Department had the privilege of visiting the Sirajganj 225 MW Combined Cycle Power Plant on June 10th, 2023. This visit gave the students a comprehensive understanding of the electricity generation process and its associated technologies.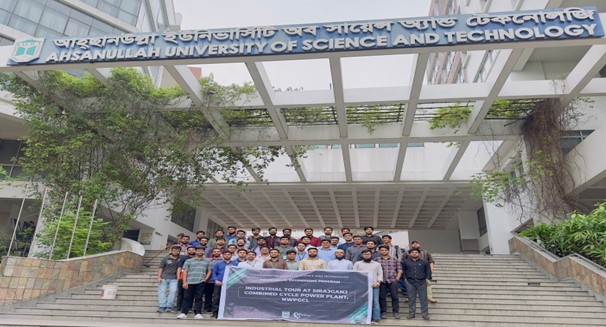 Upon our arrival, the visitors were greeted warmly by the Plant chief engineer and staffs and provided with a brief overview of the power plant operation.
During the visit, the students had the opportunity to observe the various components and systems of the power plant. Divided into three groups under the supervision of sub-engineers, they were given a guided tour, during which they had the chance of observing the gas turbines, steam turbines, and heat recovery steam generators. The on-site engineers were courteous enough to explain the functioning and interconnections of these systems, clarifying our doubts and offering valuable information about their operation. The visitors witnessed the complex process of energy production, starting with burning natural gas in the gas turbines and ending with converting waste heat into steam and its subsequent utilization in the steam turbines. The engineers were welcoming, approachable, and eager to share their knowledge and experience with the students. They patiently answered the questions from the students and engaged in meaningful discussions, which made the visit meaningful and encouraging.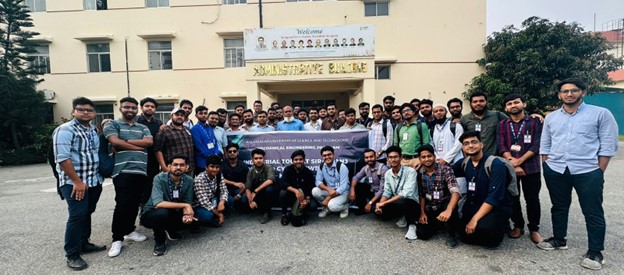 In conclusion, the visit to the Sirajganj 225 MW Combined Cycle Power Plant proved immensely enriching for the students. We extend our heartfelt gratitude for the opportunity to engage with industry professionals, effectively bridging the gap between theoretical knowledge and real-world implementation.