On August 1, 2023, at 3:30 PM, the Department of Electrical and Electronic Engineering (EEE) of Ahsanullah University of Science and Technology (AUST), IEEE AUST Student Branch, IEEE Women In Engineering Affinity Group, IEEE SPS & IEEE ComSoc Joint SB Chapter, AUST, and IEEE Power & Energy Society AUST SB Chapter jointly organized a session on "IEEE Alumni Connect 1.0: Engineering to Corporate" in Room 4A06 of the Department of Electrical and Electronic Engineering. This is the very first time the IEEE AUST Student Branch has introduced their exceptional flagship event to unite newcomers with accomplished alumni.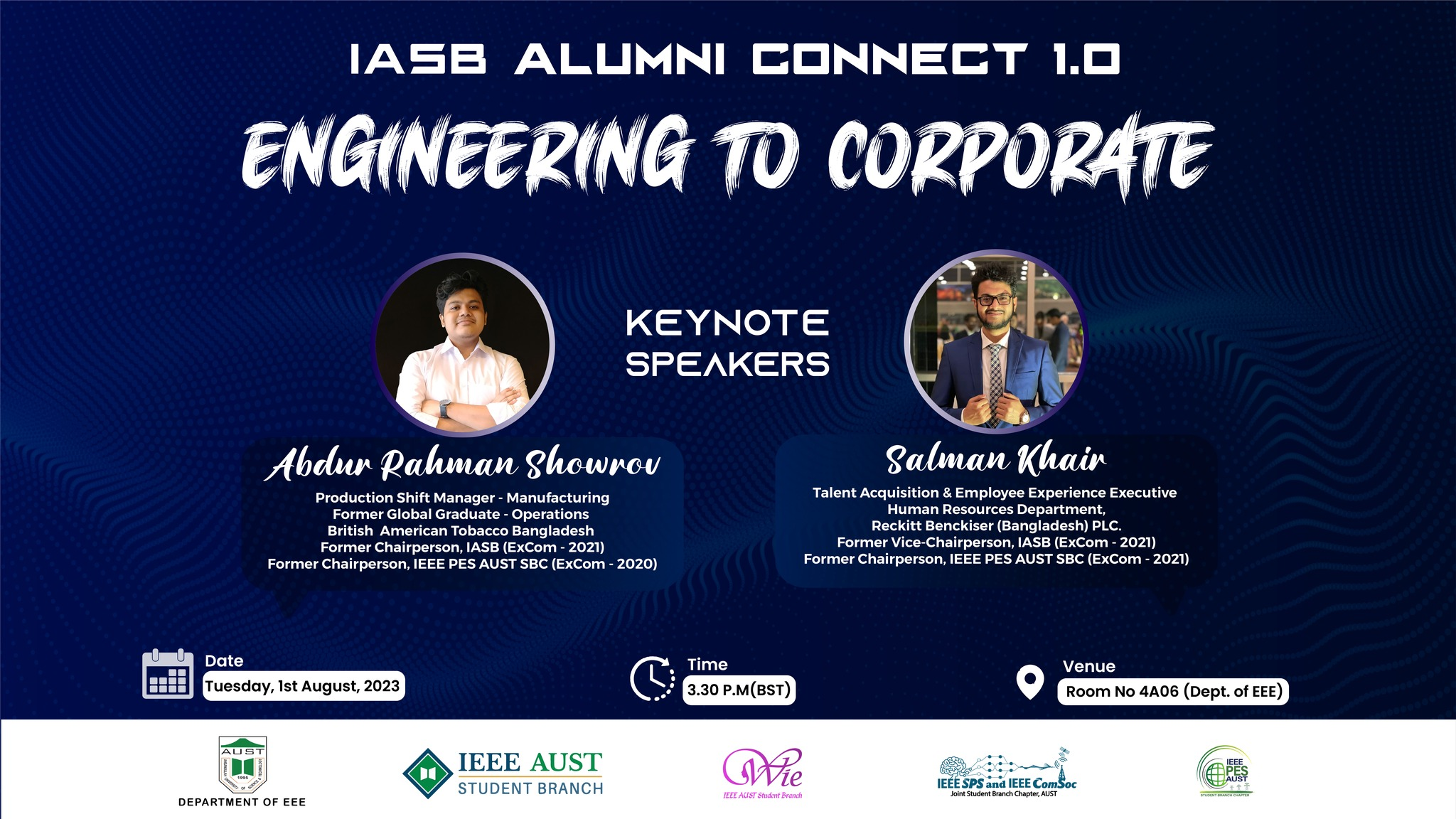 The event commenced with an inaugural address by Subbhun Raida Karim (Vice Chairperson | IEEE SPS & IEEE ComSoc Joint Student Branch Chapter at AUST). Subbhun Raida delivered a gracious opening speech, extending warm greetings to all attendees. She proceeded to introduce the esteemed Keynote Speakers and provide a comprehensive overview of the session theme to the participants.
Around 57 enthusiastic students hailing from diverse departments eagerly engaged in the session. Notably, the seminar garnered attention from our esteemed alumni as well. The event was graced by esteemed guests, including Department Head of EEE Prof. Dr. Tareq Aziz, Counselor of IEEE AUST Student Branch Prof. Dr. A.K.M. Ehtesanul Islam and other faculty members.
The seminar began with a heartfelt speech by Prof. Dr. Tareq Aziz, the Department Head of EEE, expressing gratitude to the organizers and attendees.


Abdur Rahman Showrov and Salman Khair, two prominent keynote speakers, were featured during the event. The importance of extracurricular activities and juggling academic obligations was underlined by Showrov, a Production Shift Manager at British American Tobacco Bangladesh. He highlighted the contribution of IEEE AUST Student Branch to his development as he discussed lessons learned from his prosperous career. Reckitt Benckiser's Salman Khair, who oversees talent acquisition and employee experience, offered crucial pointers for creating appealing graduate CVs that are tailored to certain job categories.Four instructive portions made up the seminar. The discussion with Showrov centered on individual experiences and the value of extracurricular activities. Khair talked about making powerful resumes. Both presenters provided specifics on the hiring procedures at BAT and Reckitt Benckiser while providing helpful advice and highlighting the need for preparedness. The event gave attendees chances for networking, personal growth, and professional counseling.The sessions concluded with an interactive Q&A segment, fostering meaningful discussions. A photo session followed, capturing memorable moments and celebrating the event's success. The session left a positive impact, inspiring attendees to pursue their goals with renewed motivation. It provided valuable insights and networking opportunities, making it a rewarding and cherished event for all.