A seminar titled "Career Talk 9.0: Road to Multinational Companies" was collaboratively organized on July 26, 2023, at Ahsanullah University of Science and Technology by the Department of EEE-AUST, IEEE AUST Student Branch, IEEE Women In Engineering Affinity Group, IEEE SPS & IEEE ComSoc Joint SB Chapter, AUST, and IEEE Power & Energy Society AUST SB Chapter.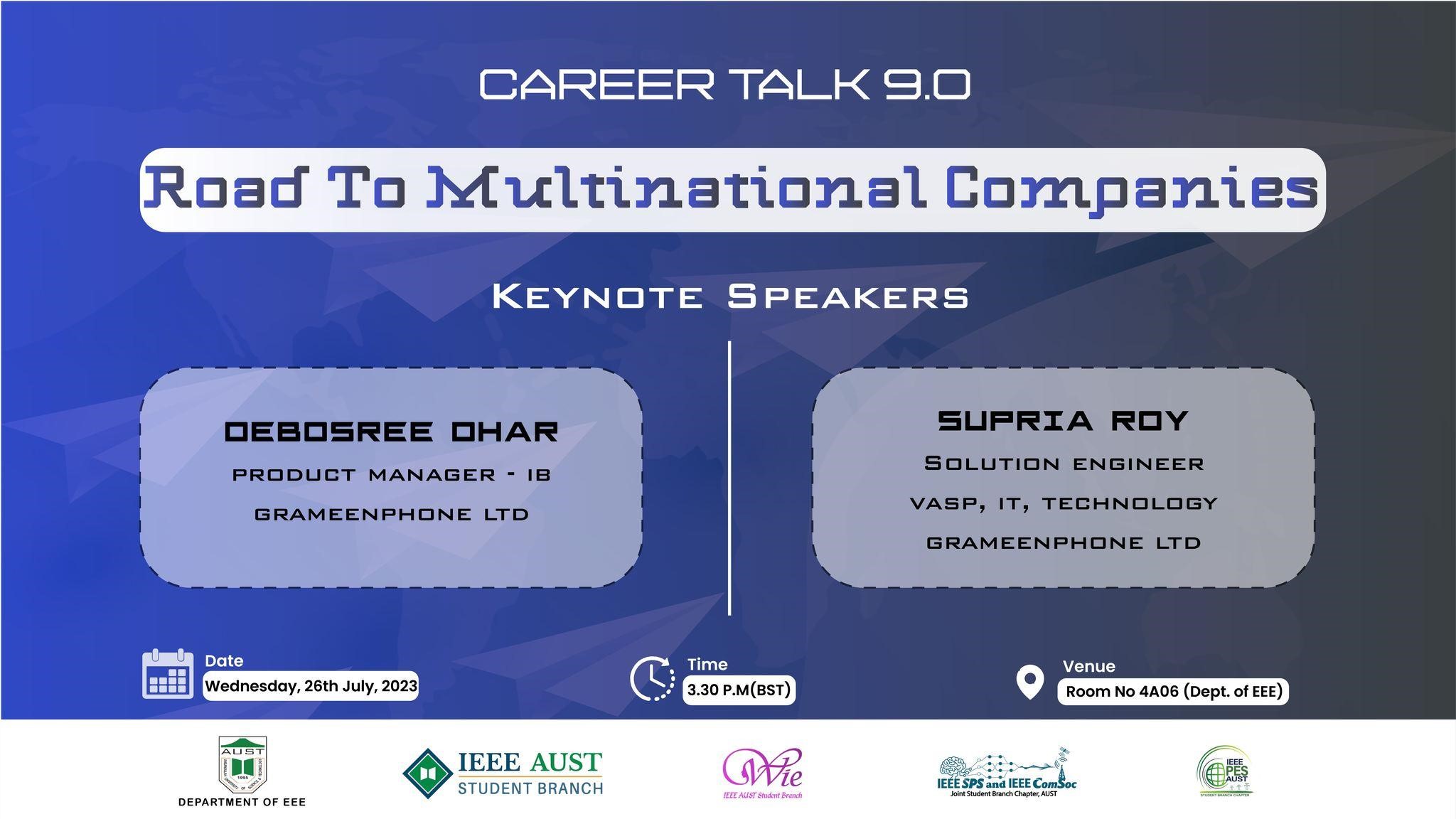 The seminar featured two accomplished keynote speakers, Debosree Dhar, currently serving as a Product Manager in Grameenphone's Internet Business team, and Supria Roy, who holds the position of Solution Engineer, Value Added Service Platform, within the IT division of Grameenphone. It commenced with the opening address by Rawfarin Sabiha (Event Management and Operations Coordinator | IEEE AUST Student Branch and Secretary | IEEE SPS and IEEE ComSoc Joint SB Chapter) and Shifa Huda (Program Coordinator | IEEE Women In Engineering Affinity Group).

Approximately 59 enthusiastic students from various departments actively participated in the lecture. Notably, the seminar also drew the attention of graduates. Distinguished guests included the esteemed Department Head of EEE, Prof. Dr. Tareq Aziz, and the respected Ms. Shaila Arif (Advisor of WIE Affinity Group), alongside other faculty members.


Supria Roy conveyed her valuable insights on her career. She shared her personal journey, highlighting the challenges she encountered during her job-searching period and the strategies she followed to achieve success in her career. She also delved into crucial components of successful interviews, including appropriate preparation, demonstrating the requisite skill and confidence. On the other hand, Debosree Dhar focused on the essential skills and qualities required to excel in the professional world. She places a strong focus on communication abilities such as persuasive speaking, successful negotiation, and presentation skills. She also emphasizes the importance of embracing taking calculated risks in achieving career growth and success with her personal experience, overcoming the fear of failure and learning from setbacks.
As the seminar came to a close, Dr. Tareq Aziz delivered an eloquent speech underscoring the significance of the career talk event for students, emphasizing its role in providing invaluable guidance and fostering networking opportunities. Furthermore, he earnestly advocated for the organization of similar events in the future, recognizing their potential to further empower and equip students in their pursuit of professional success.

The seminar culminated in an engaging and interactive question-answer session, during which attendees sought insights from career prospects to practical tips on enhancing their skill sets for future success. Overall, the seminar addressed the interests and concerns of the participants, leaving them with a renewed sense of purpose and direction in their careers.