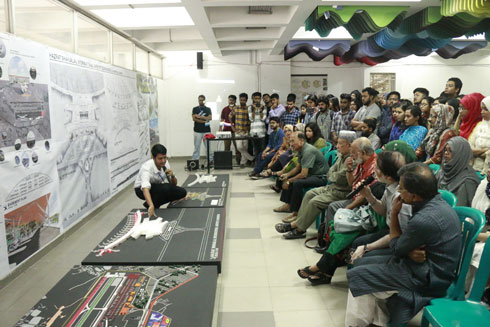 The Department of Architecture of the Ahsanullah University of Science and Technology, Bangladesh (AUST) has recently organized a 'Final Year Thesis Jury' of the students of 'Spring 2018' semester at its own campus from 3rd November to 4th November, 2018. A total of 33 students from the 31st batch was gathered with their diversified thesis projects for the presentation.
Applying the earned knowledge from previous years and unfailing efforts of a semester, students came up with excellent final outcomes in the thesis jury reflecting their whole heated abilities. This 31st batch of the Department of Architecture was well successful to prove their capability of dealing with various types and scales of architectural projects. Every project was explained from its inception to visualization in reference to background study, program analysis, form generation process and other related architectural issues. Some mentionable projects which have enormous appreciation by the jurors may include Liberation War Museum and Buddhijibi Memorial Complex at Barishal, Harnamadi Art Centre, Gumbadada, Hetauda at Nepal, Shahid Jahir Raihan Cultural Institute at Feni, Konan Baptist Church at Bandarban Sadar, Genocide Museum and Memorial at Manikganj, Hazrat Shahjalal International Airport Expansion at Dhaka, Tribal Cultural Centre at Noagaon, and so on.
Enthusiastic participation of the students of architecture in the session from AUST and other universities transformed the Department into a very lively and vibrant venue filled with festive mood. Recognized academics, AUST alumni, renowned architects and professionals attended the program to inspire the students. The respected guests and faculties of the Department of Architecture discussed on the design project and gave their thoughtful opinion. There were interactive environment with counter discussion, appreciation and criticism about the presented projects. Among the respected guests Prof. Dr. Qazi Azizul Mowla, Ar. Anisuddin Iqbal, Ar. Ziaul Islam, Ar. A.S.M. Aminur Rahman, Ar. Md. Rashidul Hasan and many other prominent practicing architects joined the program. Most of the presented projects were appreciated for their heart-full effort, architectural excellence and a successful final outcome.
The enormous encouragements by the Head- Prof. Dr. Jasmin Ara Begum, regular supervision of faculty members and the handful guidance of the studio instructors -Professor Dr. M. A. Muktadir, Ar. Ayasha Siddiqua, Ar. Nujaba Binte Kabir, Ar. Farjana Rahman also need to be mentioned for these wonderful final outcome.