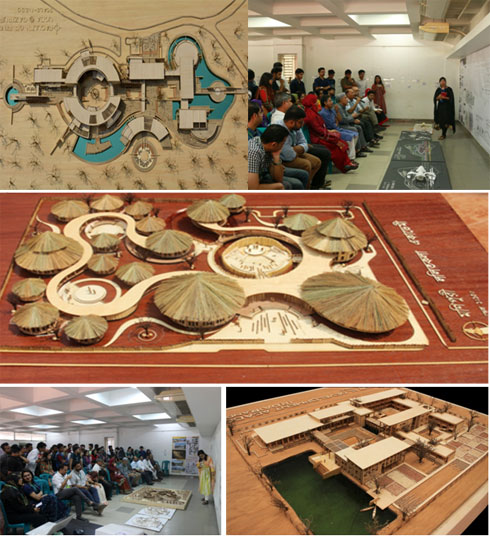 The Department of Architecture of Ahsanullah University of Science and Technology (AUST) has recently organized a Final Year Thesis Jury of Fall 2017 semester at its own campus. In three days event (31th March to 02nd of April, 2018), a total of 42 students from the 30th batch persuaded by their sincere work and unfailing effort to make successful presentation of their projects.
The final year jury of the Department of Architecture reflects numerous abilities of the students and learning outcome of five years study in this discipline. In a houseful festive environment, the students gathered with their diversified thesis projects for the presentation. Students were successfully able to prove their capability dealing with various types and scales of projects ranges from commercial buildings, institutions, cultural complexes, memorial to housing, resorts, terminal buildings, urban design and others. Every project was explained from its inception to visualization in reference to background study, program analysis, form generation process, related architectural issues. Some mentionable projects which has enormous appreciation by thejurors may include Manipuri Lolitkala Academy; Faculty of Fine Arts, UODA, Gazipur, Dhaka; Akhaura Land Port; International Cricket Stadium,Manikganj; Railway General Hospital; Bajidpur Mosque Complex, Pabna;Govt. School for the Blind & Deaf, Muradpur, Chittagong; Rural Development Academy (RDA), Ekarchali, Rangpur; and so on. Enthusiastic participation of the students of architecture from AUST and other universities transformed the Department into a very lively and vibrant venue filled with festive mood.
Honorable Vice Chancellor of AUST Professor. Dr. A.M.M. Safiullah attended the jury session and his presence was encouraging for the students as well as for the department. Also recognized academics,renowned architects, AUST alumni and professionals attended the program to inspire the students. Among the respected guests Ar. BashirulHaq, Professor Dr. QaziAzizulMawla, Ar. N.R. Khan, Rafiq Azamand many others prominent practicing architects participated in the interactive discussion sessions. Most of the presented projects were appreciated for their heartful effort, architectural excellence and a successful final outcome.
The great encouragements by the Head- Prof. Dr. Jasmin Ara Begum, the handful guidance of the studio instructors, Professor Dr. M. A. Muktadir, Dr. Rumana Rashid, Ar. Ayasha Siddiqua, Ar. NujabaBinte Kabir became fruitful with the wonderful final outcome of all those promising projects.